Specially Formulated Octane Booster from Justice Brothers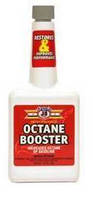 Duarte, CA: Formulated in the USA by the Justice Brothers laboratory team of chemical engineers, Octane Booster has been proven to stop knocking, pinging and overheating due to today's low octane fuels. This handy additive is compatible with both unleaded and leaded gasoline, and Octane Booster also will help prevent hard starting or detonation when a hot engine is shut off.

Each year, new vehicles become more technologically advanced, while simultaneously offering reduced emissions and greater mileage. Knocking, pinging and detonation are all signs that a given fuel is not offering the octane that your engine requires. This is particularly true for custom built, high-horsepower state-of-the-art engines in hot rods, street machines and muscle cars.

Justice Brothers new high-performance Octane Booster dramatically increases the octane rating of today's pump gasoline. Compatible with both early and late-model engines, Octane Booster can be used in cars, trucks, motorcycles, snowmobiles, personal watercraft and virtually any other gasoline-burning engine.

For carburetor applications, Octane Booster has been shown to clean varnish buildup in the carb and fuel lines, plus it's safe for newer vehicles with catalytic converters and oxygen sensors. Simply add one bottle Octane Booster for every 20-gallons of gas, and know that your engine is getting the octane it requires. Check out Justice Brothers Octane Booster, and their complete line of premium car care products at www.justicebrothers.com.

For over 70-years JUSTICE BROTHERS has been a supplier of quality professional vehicle care products used worldwide. Manufactured in America, each JUSTICE BROTHERS additive and lubricant is custom blended to offer performance and reliability. Contact them at JUSTICE BROTHERS, 2734 E. Huntington Drive, Duarte, CA 91010, (626) 359-9174, Fax: (626) 357-2550. Available only at professional car care centers.

More from Controls & Controllers