Space-Saving Wall-Mount Furnishings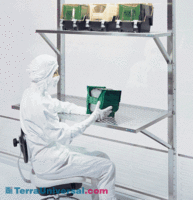 Fullerton, CA – Install work surfaces, benches and shelves in Terra Universal hardwall cleanrooms using uprights that attach to the rooms' steel frame. Furnishings do not require legs for support, keeping limited floor-space clear. Surfaces of varying depths are made of ultra-clean electropolished stainless steel or white laminate (steel is solid or perforated). Uprights are made of electropolished stainless steel, and are pre-punched every two inches for adjustable bench or shelf heights.
Cleaning cleanroom or lab floors is less troublesome without table legs to get in the way. Besides the ease of cleaning, controlled rooms typically have small footprints: wall-mounted desks, storage areas and gowning benches help keep rooms from becoming over-crowded. Surfaces are available in 16-inch, 24-inch or 30-inch depths and 4- or 8-feet lengths. They are mounted to frame uprights using pegs that fit into pre-punched openings. To adjust the height from the floor, simply lift up and reposition. Uprights come standard as 7-feet high (sold in pairs). Surfaces may be combined to create, for example, a desk with overhead shelf.
Terra Universal has 40 years of experience manufacturing modular cleanrooms with compatible furnishings. Visit Terra Universal's website for more information about their Wall-Mount Cleanroom Benches and Shelves.
Contact:
Mike Buckwalter
Terra Universal: Marketing Phone
(714) 578-6000
More from Packaging Products & Equipment