Space-Ray to Highlight its Broad Line of 80 Different Heating Models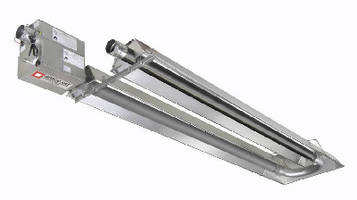 IN OVER 400 DIFFERENT HEATING CONFIGURATIONS AT THE 2011 AHR EXPO®

CHARLOTTE, N.C. --- Space-Ray Infrared Heaters will highlight one of the most complete lines of infrared heaters in the industry at the at the 2011 AHR Expo® at the Las Vegas Convention Center in Las Vegas, NV, Booth # C238, January 31 to February 2, 2011. The AHR Expo® is the world's largest HVAC&R industry show where leading manufacturers show the latest HVAC&R systems, equipment, components, related products and services.

With over 400 different heating configurations in more than 80 different models in both natural and propane gas, Space-Ray Infrared Heaters will highlight its complete product line including:

o Eight models of PTS/PTU Series Tube Heaters available in over 100 configurations with its unique TISS(TM) for additional safety for building owners in capacities ranging from 40,000 BTU/Hr to 200,000 BTU/hr and minimum mounting heights from 10 to 18 feet.

o 19 different LTU Series Tube Heaters with heating capacities in over 100 configurations from 40,000 to 250,000 BTU/hr.

o 19 models of LTS Infrared Straight Tube Heaters with more than 100 configurations and heating capacities ranging from 40,000 to 250,000 BTU/hr.

o 19 ETS/ETU Series Low Intensity Infrared Tube Heaters with 80 configurations and capacities ranging from 40,000 to 250,000 BTU/hr.

o 17 High Intensity Ceramic Heaters ranging in capacity form 26,000 to 160,000
BTU/hr.

o Four Cold Blocker(TM) Infrared Gas Tube Heaters for light commercial and small unheated spaces with capacities of 20,000 to 50,000 BTU/hr.

The first U.S. manufacturer to design unitized tube heaters, Space-Ray is celebrating over 60 years of field experience and exposure to industrial and commercial heating problems. Space-Ray manufactured its original gas-fired burner in 1949.

"Space-Ray has one of the broadest and most complete infrared product lines in the
industrial heating market with radiant efficiencies unsurpassed by competitive systems," noted Bob Genisol, Vice President of Space-Ray Infrared Heaters. "All model heaters manufactured by Space-Ray are CSA-Certified, and our broad capabilities enhance our ability to custom design a radiant heating system that meets precise facility requirements for optimum flexibility, economy and maximum radiant energy distribution."

PTS/PTU Series Tube Heaters Described

Space-Ray's PTS/PTU Series Tube Heaters are unique in that they offer the ultimate in fire safety protection.

The positive pressure low intensity tube heaters incorporate a patent-pending innovative Tube Integrity Safety System(TM) (TISS) that provides additional safety for building owners and gives them peace of mind. The heater line is ideal for retrofitting existing push through systems and is certified for vented (sidewall or through the roof venting) or indirect vented operations.

The TISS(TM) System is a low voltage circuit that continuously monitors the clearance
between the top of the reflector and the ceiling for excessive heat and tube integrity compromise. If the heat increases due to the unlikely event of heat exchanger failure, the wire melts, the safety circuit is broken and the gas controls shut down, the company said.

"With the availability of this positive pressure system, we have taken steps to assure the integrity of the system and provide the ultimate in fire safety protection for our positive pressure radiant tube heaters," noted Genisol. CSA-Certified, the PTS/PTU tube heaters are designed for use mainly in complete building heating. The PTS Series heaters are available in Straight, L-Shaped, Z-Shaped or expanded U-Shaped configurations. In contrast, the PTU Series heaters, designed to use for high heat loss areas and spot heating, are available in seven different "U" shaped configurations that assure uniform radiant heat energy distribution.

Exclusive COMPUHEAT® Program

Also available from Space-Ray is information on the company's exclusive COMPUHEAT® program, a computerized heat loss analysis service, which the company offers
free of charge to qualified plant managers, contractors and building owners. Headquartered in Charlotte, North Carolina, Space-Ray's parent company Gas-Fired Products also has a wholly owned subsidiary in Ipswich, England.

For more information on the Space-Ray line of radiant heaters, contact Space-Ray Infrared Heaters at P O Box 36485, Charlotte, N.C. 28236, call toll-free (800) 438-4936 or call (704) 372-3485. The FAX is (704) 332-5843 and e-mail info@spaceray.com. Space-Ray can also be found on the web at www.spaceray.com.


More from Explosives, Armaments, and Weaponry