Southland Equipment, an ATI Dealer, Is Excited To Announce the Development of a New Series Of Zero-Low Ground Level Lift Tables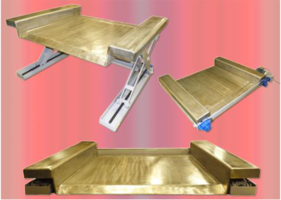 The lift is powered by an electric motor with lifting action by machine or ball screw instead of hydraulics.
The Benefit of eliminating hydraulics includes everything built-in. No more hydraulic oil, sweat or drips, drifting, and no more remote power pack. The operation is quiet, smooth, clean and suitable for laboratory, food processing and pharmaceutical operations. The new Zero-Low design is also available in stainless steel or aluminum construction for these special applications. In addition, the heavy duty design is suitable for industrial applications with ergonomics in mind.
The lift is available in capacities of 250, 500, 1000, 2000, 4000, and 6000 pounds with various standard and customizable sizes from 26" x 36" up to 60" x 72" wide and heights from zero up to 48".
The power source is 110 volts AC, 230/460V 3 phase or battery powered 12 or 24 volts. The controls are momentary contact hand-held pendant or foot pedal for up and down.
These new versions of the popular Zero Low Lifts enhance ergonomics, reliability, and cleanliness. The units are low-maintenance, versatile, and can help in any operation where the load starts at ground level and is raised to your desired working height.
Call or e-mail for more information:
109 N. Shorecrest Dr., Columbia, SC
Phone (803) 783-1171
More from Laboratory and Research Supplies and Equipment