Sonobond Ultrasonics' Bonding Equipment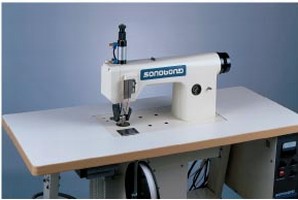 These cost-effective units bond, slit, trim, seal, and decorate synthetic materials in one quick pass-without using consumables or wasteful by-products.

WEST CHESTER, Pennsylvania, October 24, 2008-Sonobond Ultrasonics announced today that there continues to be strong demand for its bonding equipment in a wide variety of specialty textile assembly applications. According to company vice-president, Melissa Alleman, "Sonobond technology utilizes ultrasonic vibrations to fuse nonwoven and synthetic materials-without using consumables or producing wasteful by-products. Our units are fast and reliable. They bond, slit, seal, and decorate synthetic materials in one quick pass. They are also easy to operate and require only minimal training. So it is only natural for increasing numbers of manufacturers to recognize that Sonobond has practical, cost-effective solutions for their specialty textile assembly requirements."

Ideal for Filtration Assembly

Filtration manufacturers use Sonobond technology to produce reliable seams-without using consumables such as glue, thread, or needles. These machines generate dependable bonds, while eliminating glue gaps and perforations.

Sonobond has two units that are used in producing filter bags. The RingMaster(TM) Filter Bag Machine has a two-step process that joins nonwoven felted filter media to rigid plastic collars in less than 10 seconds. The result is a dependable 360º bond. Sonobond's SureWeld(TM) 20 Ultrasonic Plunge Bonder is another popular choice for filtration assembly. This versatile machine has numerous applications. These include fast, economical sealing of filter bag ends and the welding of box-style filters.

Reliable Body Armor Assembly

Almost every major ballistic vest and body armor manufacturer in the United States uses Sonobond ultrasonic bonders to ensure compliance with current National Institute of Justice (NIJ) submersion tests. (NIJ 0101.06 requires continuing protection from leaks after liquid submersion for 30 minutes. This requirement replaces the earlier and less stringent spray shower test.) The Sonobond SeamMaster(TM) High Profile Ultrasonic Bonder cuts and seals in just one pass-eliminating stitch holes and glue gaps-while sealing the outer shell of the body armor to protect the ballistic material inside. Body armor manufacturers also use another Sonobond unit, the SureWeld(TM) 20, to quickly and effectively attach Velcro® to the outer shell of ballistic vests.

Assembly of Medical Disposables

Sonobond technology has also responded to the growing demand for medical disposables that satisfy tough regulatory requirements and protect medical personnel from potentially hazardous fluids. Sonobond's SeamMaster(TM) ultrasonic sewing machines are perfect for assembling masks, gowns, and mattress covers. Sonobond equipment is also used to cut and seal lint-free, ultra-soft edges for surgical wipes and wound dressings. Four times faster than conventional sewing machines, the SeamMaster(TM) is easy to operate and requires only minimal training.

Streamlined Apparel Assembly

The Sonobond SeamMaster(TM) and LaceMaster(TM) family of ultrasonic bonders is ideal for bonding fabric that is at least 60% synthetic. Although similar in appearance to a typical industrial sewing machine, these units use no thread. Different pattern wheels can be used to create delicate lacy cutouts, structured embossed patterns, decorative edges, spaghetti straps, or pin tucking-all in just one pass. These versatile machines can be significant time-savers when used to assemble apparel featuring these types of labor-intensive details.

A Leader in Ultrasonic Welding Technology

Sonobond is a worldwide leader in the application of ultrasonic welding and bonding technology. During its 48 years of operation, Sonobond has earned an outstanding reputation for its pioneering work and quality-engineered ultrasonic bonding products. Today, Sonobond manufactures a complete line of ultrasonic welding and bonding equipment for a wide variety of customers in the filtration, medical, apparel, automotive, appliance, electrical, HVAC, and aerospace industries.

Additional Information

Additional information about these and other Sonobond products-as well as details about the company's free, no-obligation Ultrasonic Viability Test-are available on the company's website at www.sonobondultrasonic.com or by calling 800-323-1269.

More from Electrical Equipment & Systems