Sonobond Continues to Provide the Most Practical and Cost-Effective Ultrasonic Metal Welding Solutions Available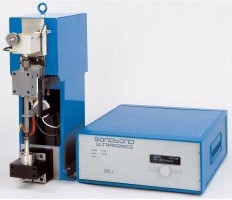 Companies across a wide spectrum of fields specify Sonobond's quality-engineered products because of their fast, reliable, repeatably accurate metal welds.

WEST CHESTER, Pennsylvania, October 30, 2008-Sonobond Ultrasonics announced today that its metal welders continue to offer significant advantages over other brands of ultrasonic welding equipment. Sonobond units use the patented Wedge-Reed coupling system to combine high vibratory force with low amplitude ultrasonics. This results in the most reliable, repeatably accurate welds in the industry. "We are pleased to be able to offer such a broad range of practical, cost-effective ultrasonic metal welding solutions," says Sonobond's vice president, Melissa Alleman. "Our ultrasonic metal welders can be customized to the specific needs of manufacturers. And we back Sonobond technology with superior customer service-before, during, and after installation."

Single Pulse Welding
An example of Sonobond's state-of-the art technology is the SonoWeld® 1600 Digital Metal Spot Welder Series. These units are designed to perform spot welds, wire-to-terminal, and wire-to-wire welding-all in a single pulse. This microprocessor-controlled system is easy to use and can join multiple layers and/or delicate foils to tabs or terminals for lithium-ion and NiMH battery assembly. The SonoWeld® 1600 features a digital display for selecting welding modes by time, total energy, or final weld thickness. These units allow storage and recall of over 250 weld protocols. They are also available with outputs of 1,500 or 2,500 watts of power for welding nonferrous similar or dissimilar metals, including copper to aluminum.

Splicing Wire Bundles
The Sonobond SpliceRite(TM) Ultrasonic Wire Splicer makes the lowest, most reliable electrical connections possible. It provides a true solid-state metallurgical bond, without melting wires or producing arcs, sparks, or fumes. The SpliceRite(TM) is capable of bonding wire bundles-even when the wires are heavily oxidized. No other ultrasonic welder does so well. Manufacturers have found they can rely on this unit for high-quality, high-strength wire connections, while eliminating any need to clip, solder, crimp, or dip.

Spot Welding of Nonferrous Metals
Sonobond's Weldmaster(TM) Ultrasonic Metal Welder Series creates a true metallurgical bond for welding nonferrous materials for wire-to-terminal, wire-to-wire, and thin sheet metal applications. The units can spot weld aluminum up to 0.040" thick and copper up to 0.032" thick. This spot welding is usually completed in less than 1.5 seconds, although time will vary according to the thickness and types of materials being joined.

One unit in Sonobond's Weldmaster(TM) Series, the Model MH-2014D, features a rugged modular frame construction for easy integration into automated assembly lines. It is equipped with pneumatically operated tooling for welding stranded and solid wire as used in automotive and appliance wire harnesses.

Effective Crimping and Sealing
The hand-guided Sonobond Tube Terminator(TM) creates quick, airtight seals in one easy step, without consumables or brazing. It takes only seconds to ultrasonically pinch off tubes and seal them. This is true even when the tubes are already charged with coolants, fluids, or gases. As a result, production speeds are increased and defects reduced. In addition, many manufacturers have found the Tube Terminator(TM)-which weighs less than 30 pounds-to be ideal for spot welding applications.

Advantages of Ultrasonic Welding
Ultrasonic welding uses a welding tip to direct high frequency ultrasonic energy to the surfaces of the metals being bonded. The energy disperses the oxides and surface films between the work pieces. A true metallurgical bond is created without melting the materials. Ultrasonic welding offers many important advantages because it is environmentally friendly, produces no waste, and is economical to use.

Sonobond: A Leader in Ultrasonic Welding Technology
Sonobond is a worldwide leader in the application of ultrasonic welding and bonding technology. In 1960, Sonobond-then known as Aeroprojects-received the first patent ever awarded for ultrasonic metal welding. During the intervening 48 years, Sonobond has earned an outstanding reputation for its pioneering work and quality-engineered products. Today, Sonobond manufactures a complete line of ultrasonic bonding and welding equipment for a wide variety of customers in the automotive, appliance, electrical, HVAC, aerospace, filtration, medical, and apparel industries. Sonobond backs its technology with a commitment to superior customer service and a willingness to work closely with manufacturers to develop practical solutions to their specific ultrasonic welding and bonding needs.

Additional Information
Additional details about Sonobond products-as well as information about its free, no-obligation Ultrasonic Welding Viability Test-are available by visiting the company's website at www.sonobondultrasonic.com or by calling 800-323-1269.

More from Electrical Equipment & Systems