Smart Maintenance Mechanics Ensure Significantly Higher Uptime: Multitest Quick Lock for Test Sockets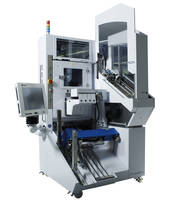 Rosenheim, Germany, May 2018: Multitest's Quick Lock Contact Unit Holder (CUH) for ecoAMP and DuraKelvin Plunge-to-Board set-ups on the MT9928 gravity feed handler has been adopted as the standard mounting solution by one of Multitest's largest automotive customers. Quick Lock demonstrated substantial reductions in maintenance, debugging, and repair times.
The Quick Lock CUH allows for quick and easy socket replacement. No tools are required and a complete set of eight sockets can be replaced in under two minutes. A full exchange process can be watched here http://multitest.com/quick-lock-video. A standard mounting would require removing the thermal insulation to get access to the screws, which in turn would then need to be removed with the appropriate tools. In the Quick Lock CUH the screws have been replaced by small levers, which are easily accessed without any hindrance and can be locked and unlocked without any tools.
The Quick Lock CUH offers these advantages without compromising on the test performance. The Quick Lock CUH works at full temperature range. Its design ensures mechanical stability of the locked contactors and also absorbs the plunger force from the handler to reduce DUT board wear.
Frank Roehrl, Project Manager, explains: "The Quick Lock CUH responds to key test socket challenges – shortening test cell downtimes due to maintenance and reducing the wear of a critical test cell component. In developing this solution, we relied upon the deep experience of our team in mechanical and thermal simulations. Additionally, we evaluated test runs deploying a thermal camera and performed extensive board wear tests in our engineering lab. Bringing all this together enables us to provide a solution for our customers to substantially increase their test cell performance."
To learn more about the Multitest's contacting solutions, visit http://multitest.com/contactors
About Multitest:
Multitest (headquartered in Rosenheim, Germany) is one of the world's leading manufacturers of semiconductor material handling equipment and interfaces for the testing and calibration of semiconductors and sensors. Multitest markets a broad portfolio of innovative and performance driven test handlers and contactors. Multitest has more than 30 years of experience in the semiconductor industry, providing solutions to the automotive, consumer, communication, and sensor markets. Multitest is a company of Xcerra™ Corporation, which provides capital equipment, interface products, and services to the semiconductor, industrial, and electronics manufacturing industries. Xcerra Corporation offers a comprehensive portfolio of solutions and technologies, and a global network of strategically deployed applications and support resources. Additional information can be found at www.multitest.com and www.Xcerra.com
trade press interested in technology, products
Please contact
Barbara Loferer 
Xcerra Corporation
825 University Avenue 
Norwood, MA 02062-2643
Phone : +49 8031 406 216
E-mail: barbara.loferer@Xcerra.com
financial media interested in corporate news
Please contact
Rich Yerganian
Xcerra Corporation
825 University Avenue 
Norwood, MA 02062-2643 
Phone : +1.781-467.5063
E-mail: rich.yerganian@Xcerra.com
More from Non-Industrial Products