Slot Grinding of Vane Pump Rotors with Micron Creep Feed Grinders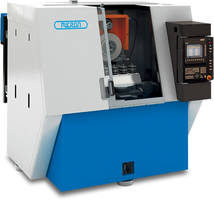 Manufacturers of vane pumps, for example fuel systems, gearboxes, power steerings or air conditioning compressors, need suppliers who provide state-of the-art slot grinding technology in combination with highest machine reliability and consequent economic benefits. With the Micron series, Lapmaster Wolters is your best partner when it comes to slot grinding in perfection!
Main quality criteria of this process are usually slot width, symmetry, straightness and surface finish, of course within short cycle time and with high process capability. Vane pump rotors require highly precise finished slots, either being ground into pre-machined slots or into the solid material.
Micron Creep Feed Grinders perfectly suit both machining strategies, as well as the required quality characteristics.
Your benefits at a glance:
Heavy-duty fabricated machine bed in combination with damper pads ensures an overall high rigidity -> improved grinding accuracy, due to minimized vibrations
High precision guide rails ensure precise spindle positioning in all axles, providing superior repeat accuracy
High precision CNC rotary table ensures precise slot positioning, providing superior repeat accuracy
The automatic wheels balancing system guarantees excellent true running characteristics of the grinding wheel
Rotors can be ground one by one or in batches for enhanced productivity
Space-saving layout due to Moving Wheel Head architecture (MWH) -> Micron MACRO standard machine with filter covers ca. 13 m²
Outstanding synergy with other Lapmaster Wolters machines: e.g. high-precision double-side grinding and deburring machines
Lapmaster Wolters
501 W Algonquin Road
Mt Prospect, IL, 60056
877-352-8637
url: www.lapmaster-wolters.com
More from Packaging Products & Equipment