Silver Membranes Preferred for Silica Testing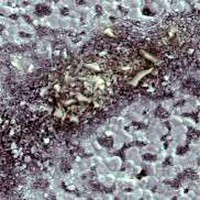 Kent, Washington - Sterlitech Silver Metal Membranes are the preferred method for Crystalline Silica Testing. The National Institute for Occupational Safety and Health, NIOSH, Method 7500 specifies the use of 0.45 micron silver membrane filters for retention of collected silica samples. Pure metallic composition and precise retentiveness of the silver membrane provides an excellent support for silica analysis via x-ray diffraction, primarily due to the low level of background noise and a distinct silver diffraction peak.

According to the World Health Organization (WHO), silicosis, an incurable lung disease caused by breathing small particles of crystalline silica, kills thousands of people every year all over the world . Occupational exposure to silica particles of respirable size occurs in a variety of industries, including mining, quarrying, drilling and sandblasting. Silicosis can be prevented if employers, workers, and health professionals work together to reduce exposures to silica. Regular monitoring of air samples in affected areas is one way to combat this fatal disease.

NIOSH also specifies Silver Metal Membranes for sampling Asbestos, Boron Carbide, Bromine, Chlorine, Hydrogen Cyanide, Lead Sulfide, and Vanadium Oxides.

Silver metal membranes are available in micron ratings of 0.2, 0.45, 0.8, 1.2, 3.0, and 5.0 with standard diameters ranging from 13 mm to 47mm. Sterlitech Corporation is one of the largest manufacturers of inorganic membranes in the world and can customize membranes for uses ranging from analytical tests to high pressure filtration.

About Sterlitech Corporation

Sterlitech Corporation is one of the largest manufactures of inorganic membranes in the world. Sterlitech's products are produced under strict quality controls to deliver industry leading performance for projects that require absolute precision in measurement and results.

For further information on Sterlitech Corporation's Silver Metal Membranes call (877) 544-4420 or (253) 437-0844, Fax (253) 437-0844, write 22027 70 th Avenue S, Kent, WA 98032-1911 USA, or visit our web site at www.sterlitech.com.


Related