Signal Transformer Announces 14A Series One-4-All™ International Transformers Now UL Recognized as Class 2 Models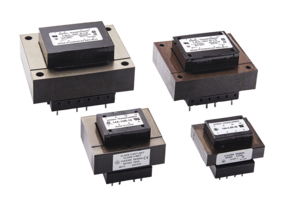 Lynbrook, NY [November 21, 2019] Signal Transformer, a Bel group company (NASDAQ: BELFA and BELFB) and global manufacturer of custom and standard transformers, chokes, inductors, transformers and SMD inductors, announced select models of the 14A Series One-4-All™ International Transformers for low power applications are now recognized by UL as Inherently Limited Class 2 transformers per (UL 5085-3). The 14A Series offer better performance at an affordable price point and meet the high isolation, creepage and clearance necessary to comply with international safety standards.
Signal's 14A Series are available in power variations from 2.5 VA to 56 VA, dielectric strength of 4000 Vrms Hipot, dual primaries of 115/230 V and 50/60Hz configurations, dual secondaries in series or parallel configurations and a flammability rating for the bobbin and shroud material which meets UL 94-V0. The 14A Series is UL recognized to UL 506 / UL 5085-2, CSA certified to C22.2 No. 66.1 and VDE certified to VDE 0805. 
The 14A Series are RoHS and REACH certified and are available through our distribution network, including Digi-Key, Mouser, Arrow and Sager. For more detailed information, please download the series datasheet. For technical inquiries, call Signal at 866-239-5777, visit belfuse.com/signal or email sales@signaltransformer.com.
About Bel
Bel (www.belfuse.com) designs, manufactures and markets a broad array of products that power, protect and connect electronic circuits. These products are primarily used in networking, telecommunications, computing, military, aerospace, transportation and broadcasting industries. Bel's product groups include Magnetic Solutions (integrated connector modules, power transformers, power inductors and discrete components), Power Solutions and Protection (front-end, boardmount and industrial power products, module products and circuit protection), and Connectivity Solutions (expanded beam fiber optic, copper-based, RF and RJ connectors and cable assemblies). The Company operates facilities around the world.
Media Contact:
Susan Rawlish
susan.rawlish@belf.com