Siemens Wins First Offshore Wind Project in Belgium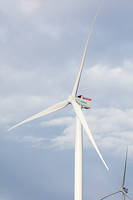 • Rentel offshore wind power plant with a capacity of 309 megawatts
• 42 SWT-7.0-154 wind turbines
• Clean power for 300,000 Belgian households
• 17-year service and maintenance contract
Siemens, as a significant player in offshore wind power, has successfully entered the offshore wind market in Belgium with a first order for the 309MW Rentel wind project. The customer is Rentel NV, part of the Otary partnership, a conglomerate of leading specialists from the Belgian renewable energy industry including investment and development companies. Siemens will supply, install, commission and service 42 wind turbines of the large direct drive platform. The output of the Rentel offshore wind power plant will be sufficient to supply approximately 300,000 households in Belgium with clean power. A long-term service agreement for a period of 17 years will provide customized offshore service and logistics solutions for the turbines, and includes Siemens' data-driven advanced remote diagnostics and monitoring.
"We are pleased that Rentel NV has selected Siemens for our first project in the Belgian part of the North Sea," said Michael Hannibal, Offshore CEO of Siemens Wind Power. "The advanced model of our proven direct drive offshore wind turbine platform and our advanced services will leverage the energy output of the Rentel offshore wind power plant and help to establish offshore wind power as a key pillar of a sustainable energy mix in various European countries."
The Rentel offshore wind power plant is located about 40 kilometers off the Belgian North Sea coast. The 42 Siemens wind turbines will be installed on monopile foundations in water depths ranging from 22 to 36 meters. The first turbines are expected to deliver power to the Belgian grid by mid-2018, while the entire offshore project is planned to become fully operational by the end of 2018.
For further information on Siemens Wind Power, please see: www.siemens.com/wind
Siemens Wind Power is the separately managed wind business of Siemens AG. Siemens Wind Power is a leading supplier of reliable, environmentally-friendly and cost-efficient renewable energy solutions. Driving down the cost of wind power is our key target as we strive to make renewable energy fully competitive with conventional energy sources. Providing highly reliable and cost-efficient wind turbines, Siemens Wind Power offers solutions to meet both business and environmental needs. With over 35,000 megawatts of wind power installed, our wind power units deliver clean, renewable energy from offshore and onshore installations around the world. In fiscal 2016, which ended on September 30, 2016, Siemens Wind Power generated revenue of €5.976 billion and net income of €464 million and has around 14,500 employees worldwide.
Further information is available at www.siemens.com/wind.
Siemens Wind Power
Communications
Head: Monika Wood
Beim Strohhause 17-31
20099 Hamburg, Germany
Trade Media:
Bernd Eilitz
Phone: +49 40 2889-8842;
E-mail: bernd.eilitz@siemens.com
Business Media:
Daniela Puttenat
Phone: +49 40 2889-6695;
E-mail: daniela.puttenat@siemens.com
More from Packaging Products & Equipment