Siemens Offers its Popular Sinumerik 828D CNC Through New Fast Package Program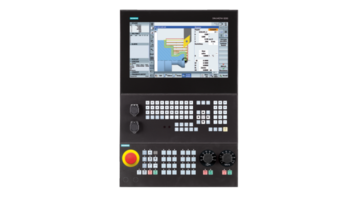 Pre-defined system packages with the most frequently used CNC, drive, motor
and accessories will be stocked in the US to ensure quick delivery
Additionally, the offering includes a price discount
To offer a fast solution to US-based machine tool builders, system integrators and retrofitters, Siemens is stocking typical system packages that include the most frequently used Sinumerik 828D CNC, Sinamics drive, Simotics motor and accessories such as cables in their Elk Grove Village, IL facility to ensure fast and efficient delivery in less than 10 business days.
Additional benefits of ordering the pre-defined packages include a price discount, a simplified ordering process and a shortened lead-time. The program is subject to availability and delivery time will depend upon the stock available in Elk Grove Village, IL. Only customers located in the United States with a physical mailing and delivery address are eligible for this program.
"Siemens is bringing the Sinumerik 828D to a highly competitive price point in the US market. The 828D is a compact, panel-based CNC that offers machine tool builders very flexible machine design integration", says John Meyer, Marketing Communications Manager, Siemens Industry, Inc. He continues, "End-customers will benefit from our highly intuitive and easy-to-use ShopMill and ShopTurn graphical programming interfaces, which increase machine tool usability and shop-floor productivity." 
There are seven pre-defined Sinumerik 828D packages covering the most typical standard milling and turning machines. They include:
3+1 Milling with 6.5 Nm feed axes + 10 kW spindle
3+1 Milling with 12 Nm feed axes + 22 kW flange mount spindle
3+1 Milling with 12 Nm feed axes + 22 kW foot mount spindle
Milling with three 12 Nm feed axes, No spindle with S120 Combi drive
Milling with three 12 Nm feed axes, No spindle with S120 Booksize drive
Turning with 3 6.5 Nm feed axes, No spindle with S120 Booksize drive
Turning 2+1, 12 Nm feed axes, 10 kW spindle
Learn more by visiting our website: http://usa.siemens.com/828-fp
Contact for journalists:
Siemens
Alexander Becker
(202) 215-9010
becker.alexander@siemens.com
For specific product information and inquiries, send an e-mail to: john.meyer@siemens.com
Follow us on Social Media:
www.twitter.com/siemens_cnc_us
www.facebook.com/SiemensCNC
Siemens Digital Industries (DI) is an innovation leader in automation and digitalization. Closely collaborating with partners and customers, DI drives the digital transformation in the process and discrete industries. With its Digital Enterprise portfolio, DI provides companies of all sizes with an end-to-end set of products, solutions and services to integrate and digitalize the entire value chain. Optimized for the specific needs of each industry, DI's unique portfolio supports customers to achieve greater productivity and flexibility. DI is constantly adding innovations to its portfolio to integrate cutting-edge future technologies. Siemens Digital Industries has its global headquarters in Nuremberg, Germany, and has around 75,000 employees internationally.
Siemens Corporation is a U.S. subsidiary of Siemens AG, a global powerhouse focusing on the areas of power generation and distribution, intelligent infrastructure for buildings and distributed energy systems, and automation and digitalization in the process and manufacturing industries. Through the separately managed company Siemens Mobility, a leading supplier of smart mobility solutions for rail and road transport, Siemens is shaping the world market for passenger and freight services. Due to its majority stakes in the publicly listed companies Siemens Healthineers AG and Siemens Gamesa Renewable Energy, Siemens is also a world-leading supplier of medical technology and digital healthcare services as well as environmentally friendly solutions for onshore and offshore wind power generation. For more than 160 years, the company has innovated and invented technologies to support American industry spanning manufacturing, energy, healthcare and infrastructure. In fiscal 2018, Siemens USA reported revenue of $23.7 billion, including $5.0 billion in exports, and employs approximately 50,000 people throughout all 50 states and Puerto Rico.
More from Electrical Equipment & Systems