Sielox to Unveil New Benchmarks in Access Control Technology and Versatility at ISC West 2020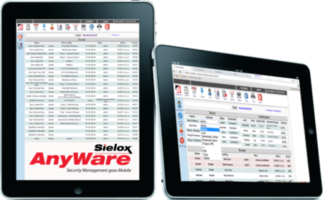 New Layered Solutions to be Displayed in Booth 12109
Runnemede, NJ (February 27, 2020) – Sielox LLC will be showcasing the company's latest innovations in on-premise access control and emergency notification and response management at ISC West in booth 12109, beginning March 18th in Las Vegas, NV.
Introductions include the ground-breaking 2700 Access Controller with new levels of intelligence at the edge to deliver myriad features and capabilities. Sielox will also unveil AnyWare Lite 2, a new on-premise access control solution designed specifically for SMB applications. These new introductions join Sielox's recently enhanced Pinnacle™ v.10.4 Access Control Solution and wireless lock integrations with industry leaders Allegion and ASSA ABLOY, as well as the company's highly touted CLASS (Crisis Lockdown Alert Status System) Emergency Notification and Response Solution, which continues to gain traction in school systems across the country.
"On-premise access control continues to be the safest and most secure way for organizations to manage, monitor and control who enters their facilities and protected areas within them," said Karen Evans, President, Sielox.' This year at ISC West, Sielox will unveil two new solutions – the 2700 Access Controller with Intelligence at the Edge and AnyWare Lite 2 Access Control Solution specifically designed for SMB applications – that deliver new benchmarks in performance, versatility and cost-efficiency, and further enhance our layered security solutions."
Showcased solutions to include:
The new Sielox 2700 Access Controller delivers unprecedented levels intelligence at the edge with on board processing capable of new and versatile capabilities. Scalable to accommodate up to 34 doors, the new 2700 Access Controller features an IoT compatible platform, and executes virtually all critical access functions with on-board database back-up to perform independently when/if necessary.
The new Sielox AnyWare Lite 2 Access Control Platform is a browser based solution for two door stand-alone operation. The single board system makes high performance IoT compatible access control available for a wide range of customers. The fast and easy system can be monitored from anywhere and features migration investment protection.
Sielox will also be showcasing recent integrations with ASSA ABLOY and Allegion wireless locks, as well as the latest enhancements to the company's flagship Pinnacle v.10.4 Access Control Platform and CLASS (Crisis Lockdown Alert Status System) Emergency Notification and Response Solution.
Email info@Sielox.com to set-up a personalized demonstration at ISC West 2020 in booth 12109.
About Sielox LLC
Sielox Layered Security Systems provide a smart way to protect people, property and assets with the highest levels of performance, reliability and cost-efficiency. Since 1979, Sielox has built its expertise working with integration partners and end-users in all types of facilities. Our "Made in USA" lockdown solutions include the AnyWare Browser-Based Access Control Solution, CLASS Crisis Lockdown Alert Status System, 1700 Intelligent Controller and Pinnacle Advanced Access Control Software integrated with leading manufacturer wireless locks. Follow us on social media: Facebook, Twitter, and LinkedIn.
EDITORIAL CONTACT
Miguelina Diakite / in|fusion
203-252-2173
Mdiakite@ifadvertising.com