Shea Concrete Products Installs Easi-Set Restroom for Harwich, MA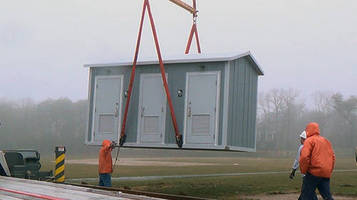 Shea Concrete Products recently installed a pre-engineered Easi-Set Worldwide restroom for the Veterans Memorial Field Complex, located just behind the Harwich Community Center. The restroom is the second such building Shea Concrete has manufactured for Harwich, MA with a third that was delivered to Long Pond Beach last week.



Shea Concrete's partnership with Easi-Set has now entered its eighth year. The New England precaster remains the northeast's exclusive licensed manufacturer for Easi-Set models. Its Rochester, MA plant specializes in the precast building production.



"It's been a great relationship," said Shea Concrete's Easi-Set Sales Manager Frank Dimando. "Easi-Set is exactly what it says -- the buildings are quick and easy to install on site."



"The town of Harwich had purchased a precast concrete building from another vendor years ago and they weren't happy with it," he continued. "A couple of years ago, they advertised for bids for another precast concrete restroom. They actually contacted me first and we sat down with them and showed them the Easi-Set restroom. They liked it and we were awarded the job."



"We enjoy these precast concrete products because of their ease of installation and durability," said John Mahan, who serves as Chairman of Harwich's Recreation and Youth Commission. "It's resilient against the salty air and sand that blows around here."



Harwich was short on athletic fields, so the town commission got an article passed for the athletic field complex to be installed last year. Up until now, participants could only resort to an on-site porta potty. Shea Concrete's 8'x16' Easi-Set restroom is a welcomed addition.



"It's a brand new facility and we needed to get a handicap-accessible restroom installed," said Mahan. "Shea's been great to deal with and the general consensus is to give Harwich a pre-fab Easi-Set building wherever needed."



Harwich is located about 45 miles from Shea Concrete's Rochester plant where a number of different Easi-Set buildings are designed, manufactured, and shipped. Types include restrooms, vault restrooms, and hazardous materials storage units. Each is virtually maintenance-free and designed and produced with necessary openings for pipes, HVAC units, louvers, and windows.



"The most difficult part is normally the design," said Dimando. "Everything that was submitted and approved, we'll then immediately start the production. Once you understand how to set the form work up, where your embeds go, where your welding plates go, where your lifting inserts go, once you've been through a couple of buildings, all it is is changing sizes."



"Easi-Set is right there to guide you the whole way. Once you've done a couple, it's a real simple process. With our design department and production department, we really work well together."



Shea Concrete is set to deliver a restroom for Harwich's Long Pond Beach by early May, making it the fourth such building for the coastal town.

More from Mechanical Components and Assemblies