Sharp Plasmacluster Air Purifiers Enables Channel Partners & Retailers to Rake in Profits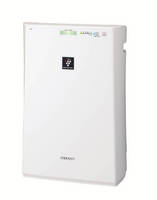 - Plans to focus on BTL activities during this festive season -



New Delhi — Sharp has introduced Air Purifiers equipped with their Patented Plasmacluster Ion Technology for India Market a little over one year ago. This range of Air Purifiers has been a quiet achiever for the Japanese company. Sharp also announced it's achievement of 4 crore satisfied users till June 2012 for Plasmacluster Ion Technology, the highest in the world for Air Purification.



As Sharp Business Systems India Limited's Product Head, Shuvendu Mazumdar sees it, Purifiers are the need of the day, as we buy Mineral Water, RO or even better water filters. For what? To save us from some petty disease like upset stomach etc. But,what about airborne diseases? H1N1, Bird Flu, Swine Flu, Tuberculosis, and so many others are killing millions in India every year. We are blissfully ignoring this, while taking 20,000 odd Breaths every day! Just consider, 1.34 million premature deaths occurred in 2008 as per WHO from respiratory diseases!

SHARP enjoys a competitive edge when it comes to Air purifiers in In dia. Same conclusion is derived by Tech Sci Research who predicts the Air purifier Market to reach Rs 560Crores by the year 2016.



Plasmacluster Technology can best be described as the next generation of Air Purifiers. They work by using an electrical discharge to create both Positive and Negative ions, which are then surrounded in water and then released into the air. Sharp says this process can clean the air and surface from irritants including dust, fungi, viruses, pollen and mould etc.



According to Shuvendu Mazumdar, "Sharp has undertaken a number of live product demonstration sites during the festive season at major Retail Outlets. This activity allows Sharp staff to interact directly with consumers and get feedback as to the consumers needs — the overwhelming reaction has been very positive."



Sharp will partner with a retailer when carrying out these activities: the most recent ones are Vijay Sales, Reliance Autozone Other Regional retails in Delhi, Mumbai, Kolkata & Bangalore which achieved over 400 unit sales in just over three weeks. The effective demonstration program strongly communicates to customers, while the Retailers are happy with the solid margin they get in this product category.



"Clearly there is a consumer need that is not currently being met by most Retailers. We will use the knowledge gained from consumers to further advance the penetration into this thinly tapped market" he added. The Plasmacluster Ion Air Purifiers is an example of Sharp's efforts to keep supplying retailers with high value products, with unique and one of kind features and benefits.



Regarding the profits that retailers can avail with Sharp's range of products, Mazumdar said, "At a time of eroding profitability and declining demand in mainstream consumer electronic products, the Sharp Plasmacluster Air Purifier range can bring retailers new sales opportunities. Retailers should talk to one of the Sharp sales team about range, training and display."

More from Software