SEHO Provides Complete Solutions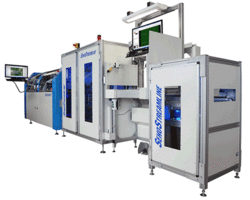 Innovative Technology from SEHO
SEHO is the leading global manufacturer of complete solutions, providing innovative systems for all fields of automated soldering processes, solutions for automated optical solder joint inspection, and automized production lines including board handling, creative work places and intelligent material management. At SEHO we combine innovative engineering and process know how to deliver equipment manufactured to the highest quality standards, ensuring a reliable and repeatable process.
Creative Solution
SEHO is able to quickly react to new trends in electronics manufacturing and convert them into processes and products for serial production.
Electronics production faces new manufacturing challenges more and more frequently. Besides high quality requirements at low production costs, there also are an increasing number of product variants and the need for flexible reactions to fluctuation in demand. SEHO soldering systems offer the optimal solution when both matters, high soldering quality and outstanding flexibility.
The selective soldering system GoSelective-LS is particularly designed for stand-alone production of small and medium sized volumes and it scores highly with its very compact design. To ensure an ergonomical work flow and the shortest cycle times, the GoSelective-LS is equipped with a loading and unloading station for carriers up to 20" x 20". Here, boards can be assembled in one carrier while a second carrier is being processed in the machine. All process steps are completely automated. The machine features a precise axis system that reliably positions the drop jet fluxer, preheat unit and soldering unit during the process. Depending on the requirements, the electro-magnetic soldering unit may be used for flexible mini-wave soldering processes, or can be equipped with a multi-nozzle tool for dip soldering with short cycle times.
SEHO selective soldering system SelectLine-C features an outstanding modular design and innovative technical details, thus ensuring clear cost benefits. The SelectLine-C machine concept incorporates fluxer station, various preheat stations and several soldering stations that may be equipped to meet different manufacturing requirements. A particular highlight for the soldering area is the Synchro software feature to double production volume without major investments. In addition, a brush station to remove any residues after the soldering process and an AOI station for immediate inspection of solder joints can be integrated into the machine. The different machine modules can be configured to an individual manufacturing line and, of course, the machine can be upgraded with additional modules at any later date as well to grow with the production requirements.
All of SEHO's selective soldering systems feature 100 percent process control, with fiducial recognition, flux quantity control, wave height control, process visualization, mcServer and many more value-added features. In doing so, they provide uncompromising superior accuracy and soldering quality. Outstanding is SEHO's automatic ultrasonic nozzle cleaning function that guarantees reliable processes and maximum machine availability.
SEHO introduces new and innovative concepts in the field of wave soldering. As an alternative to the conventional solvent-based fluxing process SEHO developed a new plasma process to deposit flux powder at the printed circuit board surface. Due to reduced residues, product quality and downtime of the machine can be improved, thus ensuring remarkable cost reduction. Preheating of PCBs, especially for the increasing share of power electronics, requires a high energy density. This can be implemented efficiently by using new infrared emitters that offer extremely good heat transfer. The fast response of these emitters, an exact PCB monitoring system and a newly developed software allow that the emitters are only activated in areas where a PCB is located.
Finally, SEHO's customers profit from complete solutions that include customized automation of production lines for board handling and material management. Work places for assembly of electronic components, buffer and paternoster stations, turn stations, automatic lifts and, of course, the completely automated conveyor units in between are only a few examples.
Contact Us
+1-859-371-7346
SEHO Systems GmbH
Frankenstrasse 7 - 11
97892 Kreuzwertheim, Germany
Tel. +49 (0) 93 42 / 8 89-0
SEHO North America, Inc.
1445 Jamike Avenue, Suite #1
Erlanger, KY 41018, USA
Tel. +1-859-371-7346
More from Services