Miscellaneous Fabrics and Cloths
SEFAR® Architecture TENARA® Fabric Creates Elegant Rooftop Space at the Times Square EDITION Hotel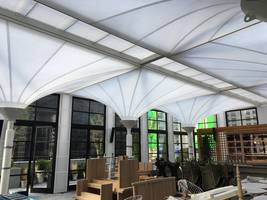 Fabric key element to versatile and well-lit 17th floor hospitality area
DEPEW, NY…Times Square, undoubtedly an iconic destination in New York City, welcomed the opening of a new Marriott EDITION hotel in February 2019. Located at 701 Seventh Avenue, or 20 Times Square, the 452-room hotel also features a 5,000 square-foot performance space, a 1,900 square-foot studio, and a 5,800 square-foot rooftop beer garden and cabaret theater.
Hotel management sought to improve the 17th floor hospitality area and transform it into an all-weather space with elegance befitting the attractive, modern building. FTL Design Engineering Studio, responsible for the building design, determined that SEFAR® Architecture TENARA® 4T40HF fabric was the ideal material possessing both beauty and the durability to handle the extreme weather conditions in Manhattan.
Ten inverted umbrella structures measuring 17 x 17 feet were designed and developed with TENARA fabric, which effectively enabled the team to create the desired well-lit, attractive space with superior weather protection from year-round elements.
"In this application, TENARA fabric is simply the right material," says Nic Goldsmith, Senior Principal, FTL Design Engineering Studio. "It has the lightness, elegance, and sheer translucency to help the terrace truly feel like an outdoor space – especially when coupled with the floor-to-ceiling glass walls and light steel framing. The project team, owners, and management are very happy with the light quality experienced below the canopies.
Tenara fabric's 100 % PTFE coating and scrim is self-cleaning and provides industry leading 38 % light transmission providing a pleasant, illuminated environment under the umbrella structures, even when its cloudy or rains.
In terms of durability, TENARA Fabric is inert to UV rays and provides extremely high resistance to material degradation, far surpassing all other materials of its kind: It offers the industry's only 15-year replacement warranty. TENARA Fabric is ASTM E84 – Class A fire-rated, making it an ideal material for public spaces, even in Manhattan when codes for roof top event spaces can be stringent.
The Times Square EDITION hotel was completed in February 2019.
To learn more about SEFAR Architecture's TENARA Fabric, visit: http://www.tenarafabric.com.
About SEFAR Architecture: SEFAR Architecture is a leading manufacturer of monofilament precision and ePTFE yarn fabrics and fabric systems for interior and exterior architectural applications. With comprehensive knowledge in textile architecture, Sefar has cooperated with experienced lighting technicians and polymer experts to develop a new generation of fabrics for the architectural and design community. For more information on SEFAR Architecture's products and services, call Peter Katcha at 727-388-4919 or visit www.sefar.us.
Contact: Nick Murosky, LarsonO'Brien Marketing Group
Phone: 412-831-1959 x123 Email: nick.murosky@larsonobrien.com
More from Electrical Equipment & Systems