SECO/WARWICK's Vacuum Furnace will go to a Commercial Heat Treater in America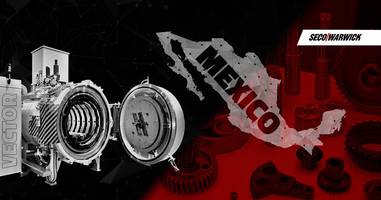 Another commercial heat treater purchased the vacuum furnace from SECO/WARWICK Group. It will be the third solution for this Mexican customer.
The Vector Family of Technologies Offers a Wide Range of Possibilities
The solution on order is a medium-sized furnace with enormous potential. The operating space within the chamber is the size most often chosen by service commercial heat treatment plants. The new furnace will improve and increase the processing capacity of the hardening processes and enhance the efficiency of all functions. Thanks to the energy-saving graphite chamber and above-average cleanliness of operation, the hardening plant will gain new production opportunities.
"Vector is a furnace with a wide range of customizable design options to be the most versatile in providing the widest possible heat treatment applications for various types of steel. Each new contract with a service hardening plant is an opportunity for SECO/WARWICK to listen carefully to the partner's new (sometimes completely different) needs. Years of experience have led to creating of a universal furnace widely used in heat treatment. It can also be modified by selecting from a wide range of options to meet individual needs. Personalization of the solution along with proven and standardized technology makes us, and our solutions, a partner of the first choice," says Maciej Korecki, Vice President of the Vacuum Segment in SECO/WARWICK Group.
Meeting the highest vacuum furnace standards
Thanks to the round heating chamber, the Vector vacuum furnace enables the efficient heat treatment of large, oversized elements. The characteristic feature of the solution on order is isothermal hardening, which enables the system to operate with tighter process control. The furnace is equipped with a dew point sensor which monitors the content of harmful water vapor in the neutral gas and protects the load surface against undesirable oxidation. Vector is equipped with an efficient cooling system based on a gas blower providing a maximum hardening pressure of up to 15 bar abs. with an inverter controller which eliminates power supply network overload - a real problem in the current times of energy crisis. It also improves the efficiency of electric utilization. This Vector system is equipped with an extensive measuring system using five additional thermocouples and an automatic process data recording system which optimizes the process duration and costs.
"Vector vacuum furnaces with a round graphite heating chamber can be used for most hardening, tempering, annealing, solution, brazing and sintering processes. Additionally, they can be used with optional, patented technologies of vacuum carburizing (FineCarb®) and pre-nitriding (PreNit®)," summarizes M.Korecki.
America recommends SECO/WARWICK
SECO/WARWICK supplies equipment for commercial heat treaters operating on all continents. Service hardening plants are a significant and demanding Group of SECO/WARWICK solutions recipients. The current order for the Mexican plant is a consequence of the exemplary SECO/WARWICK cooperation on the American markets.
"We know the American market because we have three branches of the Group there, a second Research and Development Center, and we operate under three brands. We deliver our solutions not only to service hardening plants but also to the largest concerns on the North and South American continent. We have been operating on the Mexican market for many years, supplying both vacuum furnaces and our unrivaled CAB technologies," adds Sławomir Woźniak, President of the SECO/WARWICK Group.
SECO/WARWICK has been actively operating in the American market for years. In addition to vacuum furnace technology, Mexico is also a recipient of CAB and aluminum technology. This year, SECO/WARWICK also signed a contract to deliver equipment for a global manufacturer of automotive heat exchangers, which will be installed in its newly built Mexican factory.
Contact:
Katarzyna Sawka
Seco/Warwick Group
Marketing VP
Email: [email protected]
Tel: +48 512 811 64