SECO/WARWICK Actively Pursues The Chinese Market with Annual Sales of Dozens of Metal Heat Treatment Systems to Global Companies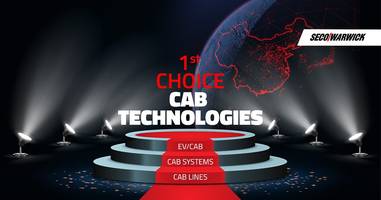 Another supplier of heat exchangers chooses SECO/WARWICK's CAB technology
One of the Chinese major global players placed an order with SECO/WARWICK for a CAB line for brazing heat exchanger components. The line was designed specifically for manufacturing oversized battery coolers.
"This year, CAB lines for brazing heat exchangers have been sold to several new customers on the Chinese market. The EV/CAB line wins the market with perfect temperature uniformity across the belt, suitable for the strict requirements of the automotive industry, as well as its reliability and quality. Market recommendations and numerous implementations make it clear that choosing this proven EV/CAB line was the right decision. We are the leader in this segment and we are very glad to have another Partner place trust in our technology," said Piotr Skarbiński, Vice President of the Aluminum and CAB Products at SECO/WARWICK.
A fourteenth SECO/WARWICK furnace for a valued Chinese partner
A publicly listed Chinese company operating in the heat exchanger industry has placed an order for yet another, the fourteenth in a series, controlled atmosphere brazing system from SECO/WARWICK. The latest CAB line for this customer was designed specifically for manufacturing oversized battery coolers.
"Cooperation with this partner goes back several years, and over that time we have delivered multiple systems for different applications. The current order concerns a state-of-the-art CAB line resulting from cooperation and the experience of our heat-exchanger manufacturing partners. Thanks to our relationships, experience, and technological expertise, we have reached a level that is difficult to achieve for our competitors. We can offer one of the best products in this market segment, proven with numerous orders," Skarbiński added.
SECO/WARWICK has a strong position on the Chinese market
From the beginning of the year, the number of orders placed for protected atmosphere brazing equipment has skyrocketed. The third order placed by another Chinese customer is also for a CAB line which will be used for manufacturing air-conditioning condensers and evaporators.
In the first half of 2022, orders were placed by Jiangsu RIDEA, a company specializing in manufacturing heat exchangers for agricultural machinery, construction vehicles, ships and power generators. The brazing solution for coolers will significantly increase the company's capacity in terms of manufacturing large coolers intended for delivery vans.
Two SECO/WARWICK CAB lines were also ordered by the Chinese plants of SOUZHOU RETEK and these will be intended for brazing large-size coolers for vehicle batteries.
Local production of SECO/WARWICK equipment in Asia in response to growing demand makes it possible to deliver CAB lines to the Asian market with shorter delivery times. SECO/WARWICK, as a branch, has been operating in the Chinese market since 2010, and during that time, the Group has sold multiple CAB lines used in the manufacturing of various types of heat exchangers. We can proudly say that SECO/WARWICK has a strong position in the Chinese market and a very good reputation.
Contact Information:
Katarzyna Sawka
Marketing VP
SECO/WARWICK GROUP
Email: Katarzyna.Sawka@secowarwick.com
Tel: +48 512 811 648
More from Software