Seco Tools to Unveil New Solutions with Duratomic Coating at CMTS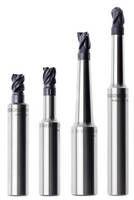 Troy, Michigan - Seco Tools will introduce new turning insert grades and chipbreaker inserts within its exclusive Duratomic(TM) coating product line at the 2011 Canadian Manufacturing Technology Show. The company will occupy booth 2726 at the event, which takes place October 17-20 at the Direct Energy Centre in Toronto.

Two new insert grades appearing at the show are TK1001 and TK2001. These are the latest additions to Seco's well-established and extremely popular Duratomic family of turning and milling insert grades. Additionally, there will be a large offering of geometries and chipbreakers designed for the ISO K10-K20 range of cast materials, such as grey and ductile irons. Extremely reliable and versatile, these grades offer better wear resistance, allowing for higher cutting speeds and improved productivity.

Seco will also showcase its new M5 and FF2 chipbreaker inserts. As a result of these inserts, there are now 125 new available items spanning Seco's Duratomic line to its recently introduced Cermet technology. The versatile M5, a positive-lock chipbreaker for general turning, is ideal for medium and rough machining applications, while the negative style FF2 chipbreaker is perfect for the fine finishing of general applications.

Seco's exclusive Duratomic technology is a process that creates a durable coating by uniquely arranging aluminum and oxygen atoms to provide increased toughness and abrasion resistance.

In addition to new products, Seco will have its recently launched Minimaster Plus replaceable tip milling system on display at CMTS. This highly productive, precision-focused system makes tool-length re-measurement a thing of the past. It offers a large selection of shanks and inserts for a multitude of applications. Twenty-four versions of the shank are available, along with square shoulder and ball nose inserts that have through tool coolant on all two and three flute designs. The inserts come in two grades for machining all types of materials and E- and M-geometries for a smooth cutting design. Insert diameters range from 0.375" to 0.625", and corner radii are available from 0.0157" to 0.122" to match a variety of design requirements.

The Minimaster Plus excels in general machining applications for the aerospace, power generation, automotive, medical, and mold and die industries. Such applications range from turbine blades to engine blocks to human implants.

About Seco Tools

Seco Tools is a leading provider of metalcutting solutions for milling, turning, holemaking and toolholding. The company prides itself on building close relationships with customers to effectively understand and address their needs. For more information on products and services from Seco Tools, please contact Lisa Seidl, Seco Tools, 2805 Bellingham Drive, Troy, Michigan 48083, Tel: 248-528-5444, Email: lseidl@secotools.com, or visit http://www.secotools.com/us.


Related