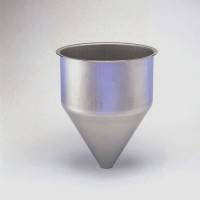 Toledo, OH – Toledo Metal Spinning seamless hoppers are made in the USA and 100% formed with zero welds, thus eliminating common weld related issues such as corrosion, leaking, cracks, sanitary, and porosity issues.  The smooth weld-free radius transition between the cone shaped bottom and cylinder shaped top improves both product flow and clean out for applications requiring sanitary conditions.



We can help solve your sheet metal needs with our off-the-shelf or customized TMS hoppers to eliminate welds and improve product flow. Our hoppers are routinely used for auger feeders, blenders, bottom discharge tanks, coffee roasters, cone bottom takes, food processing and storage hoppers, gravimetric loaders and more.



TMS can customize your hopper or work with your fabrication shop to save you money while providing the highest quality hopper on the market. You can buy online, over the phone, or email with purchase order for customers with approved accounts. We stand behind our work with customer support based in Ohio. Visit our website to view more of our metal spinning products at www.toledometalspinning.com! 



Want more TMS? Sign up for our monthly newsletter at www.toledometalspinning.com, or follow us on Twitter @ToledoMetalSpin!

More from Cleaning Products & Equipment