SDP/SI Expands Timing Belt Inventory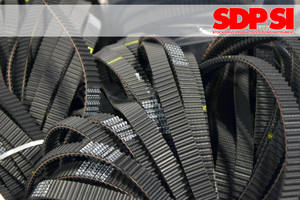 Improving Service to Meet Customers' Needs for Quick Turnaround
June 27, 2019 – Hicksville, NY – Stock Drive Products/Sterling Instrument (SDP/SI), a leader in providing mechanical based design, engineering, and precision manufacturing services for critical motion control and small power transmission applications is proud to announce an expansion of their timing belt inventories resulting in shorter lead times.
SDP/SI develops and manufactures timing belt and pulley drive systems, offering not only the components but complete assemblies designed for optimal performance. "Customers face challenges every day, from a line going down to building a prototype. By expanding our timing belt inventory we have dramatically lowered lead times, cutting and shipping timing belts in less than a week." said V.P. Sales/Marketing, Doug Kerester. "Increasing our inventory levels in timing belt materials will better position us to meet our customers' needs for quick turnaround,"
SDP/SI is one of the top 3 belt sleeving consumers in the USA offering synchronous timing belts in a wide range of profiles, including MXL, XL, L, HTD®, GT®2 and GT®3. Stocking timing belt material from leading manufacturers, such as Gates, SDP/SI has the capacity to cut over 6,000 belts per day. Both standard widths and special widths cut to customer requirements are available. Detailed product specifications are available on the website.
About Stock Drive Products/Sterling Instrument (SDP/SI) a Designatronics company
SDP/SI, ISO 9001:2015 + AS9100D certified, provides mechanical based design, engineering and manufacturing services for critical motion control and small power transmission applications, including aerospace, defense, medical, robotics, and industrial automation. Over 87,000 standard inch and metric small mechanical components are available for fast turnaround. SDP/SI specializes in high-quality machined parts, molded components, synchronous belt drives, precision gears and subassemblies, offering customized design. For more information go to: www.sdp-si.com
Contact
Linda Shuett,
MarCom Manager
516-302-2245