SCREEN Truepress Jet520S is The Right Kind of Equipment for Versatile, One-stop Solutions Provider, Envelopes & Forms, Inc.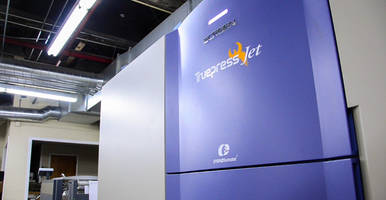 Rolling Meadows, Illinois — Envelopes and Forms, Inc., Duluth, Georgia, set a goal to be the only vertically integrated provider in the marketplace to offer a complete solution for: billing services, commercial printing, envelope manufacturing, IT and data processing, mailing and postage reduction solutions including pre-sorting and co-mingling services — all in-house, with no outside vendors. Enter the SCREEN Truepress Jet520S Inkjet Web Press.
"We spent 5 to 6 months researching our options: the pluses and minuses, maintenance costs, machine costs and capabilities, ink costs, service costs, the whole nine yards. We decided the SCREEN Truepress Jet was definitely the best fit for us. I think SCREEN is a true pioneer, a leader of the space", said Envelopes and Forms, Inc. (E&F) owner, Chris Deedy.
SCREEN's Truepress Jet520S Inkjet Web Press is a high-quality, high-volume variable data press with high-speed, on-demand printing capabilities that meets E&F's market niche: transactional bills, statements, and letters. "Much like you wouldn't see a Podiatrist for a headache, you have to go to the printer who's running the right kinds of equipment for specific types of work", Deedy asserted.
The Truepress Jet520S features industry leading, drop on demand (DOD) inkjet heads that enable extremely fine control of the ejected ink drops, generating smooth gradations. "The quality of the print is exceptional," said Chris Deedy. "It has definitely opened new opportunities, with high quality, long or short-run, full color variables or just black and white".
E&F along with its subsidiary, SureBill, offers full service offset printing with web and sheetfed capabilities, graphic design, envelope manufacturing, custom forms, high speed inserting, data processing and electronic billing as well as a full range of postage reducing USPS pre-sorting and mailing services. Chris Deedy founded the company in his garage in 1984 and has grown his enterprise to an impressive 55,000 square-foot facility, with a satellite plant near Atlanta. Since adding the Truepress Jet520S, which to the best of his knowledge is the only such device in the state of Georgia, Chris says, "With the evolution of the company, I can now give our clients the best of all worlds. I can put projects onto the offset web or onto the digital variable web". We print the work where it fits best.
The Truepress Jet520S prints on a wide range of paper types, giving the press the flexibility required for modern print clients. It features a roll-fed paper transport system that enables extremely fast, high-volume printing up to 419.94 feet (128 meters) per minute. The Truepress technology is backed by a network of telephone and cross-trained service technicians, ready 24/7 to answer any of the few support needs. In regard to installation, service and support, Deedy added, "SCREEN has been exactly as you would like them to be. Perfect. They have done everything that they said they would do. I cannot speak highly enough about the company".
"We've averaged about 20 million monthly impressions on the Screen since the June installation", claims Mr. Deedy. "It's been a good machine. I can do specific, target-marketing mail with no outside vendors, other than paper. No middleman, no extra delays, and no material mark-ups." The Truepress Jet520S provides the high quality and fast turnaround that E&F needs to meet the demands of the large corporations, utilities, healthcare companies and governments that it serves.
With the Truepress Jet520S added to E&F's flotilla of production machines, Deedy is proud to say, "We have a lot of capacity and now, the additional capacity to grow. I'm looking forward to approaching prospects as the only company in the country with the speed, flexibility and cost competitiveness that comes from manufacturing everything under one roof with state-of-the-art equipment: high-speed inkjet equipment, high-speed envelope converting equipment, high speed insertion and mail presorting equipment. We have always focused on the long-term direction of our company. I hope to buy five 'SCREENs' in the next five years".
About SCREEN Americas
SCREEN Americas, a SCREEN Graphic and Precision Solutions group company, is a leading supplier of systems and components for the graphic arts industry in North America and South America. Its diverse line of integrated products includes digital printing systems for a variety of applications, including print on demand, variable data, Flexo/packaging solutions, industrial and sign/display printing. For more information, please visit Screen's website at www.screenamericas.com.
Information Contact:
Mark Schlimme
VP Marketing
Mark.Schlimme@screenamericas.com
847-909-8435
More from Test & Measurement