Scotchman Features Electric Pipe Notchers by ALMI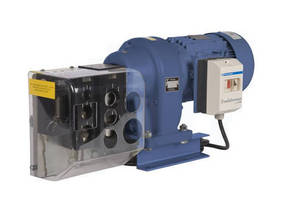 Models AL1-2U & AL1-2E

Scotchman Metal Fabricating Solutions features the Scotchman our Electric line of Pipe Notcher/Grinders. This pipe notcher is top quality, economical and great for high production, and is an efficient abrasive pipe grinder for the notching of gas pipes, steam pipes, stainless steel pipes, and many other types of pipes. Wherever pipes need to be welded together at an angle, Scotchman pipe notching machines ensure that the correct cope is made quickly and accurately and are ideal for double corner joints.

Scotchman offers two electric drive machines. The AL1-2E and AL1-2U are electric drive notching machines that are ideal for rigorous use and can notch pipes with an external diameter of ¾", 1", 1-1/4", 1-1/2" and 2". For galvanizing, Model AL1-2U is equipped with a vent notching die to quickly create a uniform vent-notch in round or square workpieces for galvanizing outflow. The motor forms one unit with the special eccentric shaft that drives the notching tool. The motor is fitted with an on/off switch with zero-voltage protection and a guard.

The Scotchman Pipe Notchers by Almi are quick, easy, inexpensive cost savers that are accurate on all material thicknesses and all types of material. They are easy to operate and are ideal for tubes and sections. The grinding rollers are easy to change, and the grinding belt is quickly tightened and easily adjusted. Once the sections of pipe have been ground they can be deburred using the handy deburring table on top of the machine. Scotchman Pipe Notchers are backed with Scotchman's Best-in-the Business, 3 Year Warranty.

Scotchman Industries was founded in 1967, and has been providing quality materials and construction, dependable performance, competitive pricing, and service to its consumers ever since. As the world and its markets change and expand, Scotchman Industries continues to grow and adapt.

Contact Scotchman Industries, a leader in tool technologies, for more information about their Metal Fabricating Solutions. Visit www.scotchman.com, info@scotchman.com, or call TOLL FREE at 1-800-843-8844 or DIRECT at 1-605-859-2542.


More from Architectural & Civil Engineering Products