Schleuniger, Inc. to Demonstrate Latest Wire Processing Machines at IPC APEX Expo 2018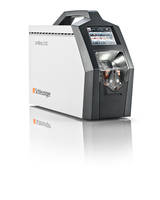 Schleuniger, Inc., a leading international manufacturer of high-precision wire processing machines, will demonstrate select equipment from its comprehensive line of wire processing products at the 2018 IPC APEX EXPO, the largest electronics assembly exhibition in North America. The exhibition will be held at the San Diego Convention Center in San Diego, CA on February 27 -March 1, 2018 and will include over 450 of the industry's top suppliers in the electronics manufacturing industry. Schleuniger will be at booth #3303 providing hands-on demonstrations of innovative wire processing solutions.
New for 2018, Schleuniger will be exhibiting a new concept machine for laser wire and cable stripping, the Mercury-5. This new concept machine can strip wires and cables ranging in diameter from 1 mm – 20 mm (0.12 – 0.79") O.D. Using the color touchscreen, the operator programs the cable diameter, strip length and power level and the machine is ready for operation. The operator inserts the wire or cable to be stripped into the Mercury-5 and presses the foot pedal to begin the stripping cycle. The cable is automatically centered and gripped while the laser performs the stripping process. The Mercury-5 strips all types of polymer insulation materials. It can also perform an axial slit, making it easier to remove the insulation after the stripping process. The Mercury-5 is non-contact, does not have any wear parts and offers guaranteed nick-free stripping for the most demanding applications. Attendees at APEX 2018 will be among the first to see this new machine in action!
Schleuniger's EcoStrip 9380 and MultiStrip 9480 cut and strip machines will also be shown. These high performance automatic cut and strip machines accurately process a wide range of wires and cables. The flexible EcoStrip 9380 can be configured with rollers or belt feeding and the configuration can be quickly and easily changed by the operator. The unique 3-position design of the optional belt feeding system further enhances the customer's capabilities and can be set for normal mode, roller mode or short mode processing – depending upon the application. The versatile MultiStrip 9480 offer six machine versions to cover a wide range of applications and budgets and with additional features like the multi-position cutter head, application possibilities are nearly endless. Both machines can be easily interfaced with Schleuniger's vast line of integrated accessories to create a fully automatic wire processing production line.
The ShieldCut 8100 will also be highlighted. With an intuitive, high definition 7-inch color touchscreen and a supplied standard guide set, the ShieldCut 8100 can safely and quickly cut and remove the braided shield layer from most shielded cables, eliminating countless hours of manual labor. As the only machine of its kind, the ShieldCut 8100 fills a current market need for efficient processing of shielded cables.
Finally, hands on demonstrations of Schleuniger's popular benchtop stripping machines will also be provided. The UniStrip 2300, UniStrip 2550, UniStrip 2600 and RotaryStrip 2400 programmable wire stripping machines provide the flexibility and versatility needed to process even your most difficult applications with ease and the CoaxStrip 5200, coaxial cable stripping machine provides high precision rotary stripping and menu guided programming, guaranteed to deliver high quality results.
As always Schleuniger's wire processing experts will be on hand to review your wire samples and help you find the right equipment for your specific applications.
More information about these products can be found at www.schleuniger-na.com. Should you have any questions, please e-mail sales@schleuniger.com or call (603) 668-8117.
About Schleuniger
The Schleuniger Group in Thun is a globally active technology company and a leading supplier to the wire processing industry. With its wholly-owned and independently managed company, DiIT, Schleuniger is in addition a leading player in digitalization and industrial IoT.
Most of the Schleuniger Group's customers are suppliers to the automotive, entertainment and information industries as well as for the communications sector. Schleuniger's products are used wherever precise connections and highest productivity are required. The company has development and production locations in Switzerland, Germany and China. Due to its sales and service companies in North America, Europe and Asia and more than 40 distribution partners worldwide, Schleuniger is always close to its customers.
The Schleuniger Group represents the wire processing business segment of the publicly listed Metall Zug Group and has more than 700 employees and 30 apprentices worldwide.
Contact This Company Download Spec Sheet
Related