Saint-Gobain Seals Group's Rulon® J Fluoropolymer Material ASTM Certified for Flammability, Smoke, and Toxicity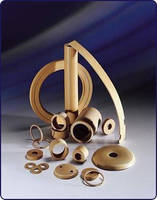 Saint-Gobain Seals Group's Rulon® J, one of their fluoropolymer grades, was recently certified for mass transit applications such as in trains and aircraft in regards to specific safety requirements for flammability, smoke and toxicity (FST). While composites are an excellent technology for weight reduction, most thermoset resins carry some safety risk in mass transit applications due to confined spaces and difficult and dangerous evacuation situations. Federal and local safety requirements have been established for control of fire, smoke and toxicity risks.



Specific flammability and smoke density testing were performed according to ASTM standards.  ASTM (American Society for Testing and Materials) is a globally recognized leader in the development and delivery of international voluntary consensus standards and more than 12,000 of their standards are used around the world to improve product quality, enhance safety, facilitate market access and trade, and build consumer confidence.



Rulon® J material was certified according to ASTM E162-11 – "Surface flammability of materials using a Radiant Heat Energy Source" and ASTM E662-09 – "Standard Method for specific Optical Density of Smoke Generated by Solid Materials," which meets the requirements of  Specification section T.S. 205.A.3.a, flammability and smoke emission under Title 49CFR 238.103 for vehicle components. Because the material performs to ASTM FST flame and smoke standards, it is considered to have flame spread and smoke concentration rates slow enough to give passengers sufficient time to disembark the vehicle more safely.



ASTM E162 measures flame spread and testing is performed where a panel's top edge is exposed to a 670°C/1238°F heat source placed at a distance of 11.9 cm/4.7 inches. The test is run until either the flame reaches the bottom edge or until 15 minutes elapses. The flame spread index is calculated, based on the distance the flame traveled and the amount of heat generated from the material. ASTM E662 determines smoke density and tests are conducted with and without a flame run for a maximum of 20 minutes, with optical smoke density measurements taken at specified intervals to determine the maximum smoke density. 



Toxicity testing was performed according to Boeing Specification Support Standard BSS 7239 for Toxic Gas Generation by Materials on Combustion and meets the requirements of Specification section T.S. 205.A.3.c for maximum toxic gas release limit. The Boeing test method employs a flamed heat source in a smoke chamber to gauge toxic fume concentration of six gases -- carbon monoxide (CO), hydrogen fluoride (HF), hydrogen chloride (HCl), hydrogen cyanide (HCN), nitrogen oxides (NOx) and sulfur dioxide (SO2) and concentration levels are recorded at specified time intervals.



Rulon®J material is part of the Seals Group's polymers product line and operates extremely well against soft mating surfaces, has excellent wear resistance, is non-abrasive and has one of the lowest coefficient of friction of most reinforced PTFE materials. The Rulon® brand consists of a family of proprietary, homogeneous materials that are mostly composed of PTFE based resins, and products include bearings, rings, tapes, formed parts, basic shapes and wear components.  Primarily used in mechanical, electrical and chemical applications, Rulon® material withstands a variety of harsh environments such as extreme dryness, cryogenic temperatures, water, steam and hydrocarbon fuel. It is ideal for space applications (one of the harshest environments); Rulon® ball bearings were installed on the NASA rover Curiosity that was launched to Mars in November 2011 and where the rover is still exploring the surface for new discoveries.



The Rulon® product as well as Saint-Gobain Seals Group's other material line, Meldin®, will be featured at the K Trade Fair 2013 (an international plastics and rubber show) in Düsseldorf, Germany from October 16-23.  The Seals Group will be exhibiting with other Saint-Gobain businesses: Process Systems, Healthcare and Films.



For more information about the Seals Group's Rulon® product, their other polymer and sealing solutions or the K show, please visit www.seals.saint-gobain.com.



About Saint-Gobain Seals Group (www.seals.saint-gobain.com)



Saint-Gobain Seals Group is a business unit under Saint-Gobain Performance Plastics' Engineered Components division, offering a diverse range of innovative sealing and polymer solutions: 



•OmniSeal® Spring–Energized Seals

•OmniLip™ PTFE Rotary Shaft Seals

•OmniFlex™ Fluoroelastomer Seals

•OmniShield® EMI / RFI Shielding Solutions

•Rulon® High-Performance Fluoropolymer Compounds

•Meldin® 7000 Thermoset Polyimide Materials

•Meldin® HT High-Performance Thermoplastic Materials



Other products include Fluoroloy® (high-performance custom-formulated compounds and alloys), cup seals, hydraulic seals, metal seals, v-packings, piston rings, Marathon® (valves and vacuum pump diaphragms), Transband® (PTFE creepage band), custom parts, polymer bearings and stock shapes.



The majority of seals and polymer components manufactured are custom designed and matched with the best materials to optimize their performance in various applications and markets.



More from Sensors, Monitors & Transducers