Safety Rail Source and Kee Safety Introduces New Roof Hatch Railing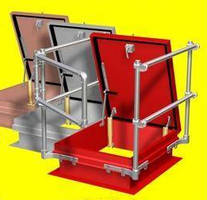 Our new KeeHatch® Mightylight roof hatch rail is an "Exact fit" for Bilco, Babcock Davis and other hatches. It's made of aluminum and weighs only 35 lbs, has few parts and is E-Z and fast to install by one person with our fastclip(TM) installation process. KeeHatch Mightylight meets all OSHA Standards and compliance codes.

This revolutionary product was developed by the inventors of hatch railings, Safety Rail Source and Kee Safety. For more information please call us at 877-723-3766 or visit our web site at www.safetyrailsource.com.

More from Non-Industrial Products