Saelig Introduces Economical Teledyne Test Tools (T3) Range of Test Equipment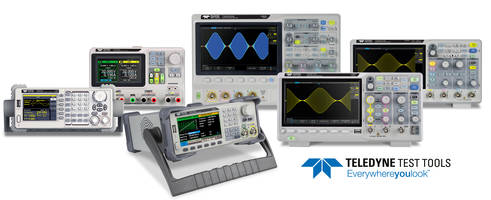 A new range of oscilloscopes, signal generators, power supplies, DMMs and spectrum analyzers is now available in the Teledyne LeCroy brand 
Fairport, NY, USA: Saelig Co. Inc. has announced the launch of Teledyne Test Tools (T3), a branded portfolio that adds a comprehensive range of test equipment to the range Teledyne LeCroy product offerings. T3 products complement and leverage Teledyne LeCroy's decades-long leadership in oscilloscope technology, supported by the extensive Teledyne LeCroy Sales and Customer Care organizations. Included in the new T3 range are 100-300MHz oscilloscopes, 5-120MHz signal generators, 195W power supplies, 4 1/2/5 1/2/ 6 1/2 digital multimeters, and 9kHz – 2.1/3.2GHz spectrum analyzers. The new T3 product range features test equipment with technical specifications that meets or exceeds the requirements of many users.
The new T3 brand establishes a turnkey platform for test engineers, developers, and schools, and creates a product range which supports existing Teledyne LeCroy users with a complementary range of bench solutions to allow them to select Teledyne products for all their needs. USA service support is backed by a three year warranty on all hardware, with local sales support teams to handle issues and general questions.
About Saelig Company Inc.
Founded in 1988 in Rochester, New York, Saelig is a North American distributor with a growing reputation for finding and sourcing remarkable, unique test and measurement and control products and components for use in a wide variety of industries. Products lines are continuously added from sources across the globe, and are offered at competitive prices, accompanied by full in-house technical support, exceptional customer service, and fast delivery. For full details of available product lines, please visit www.saelig.com.
Contact: Alan Lowne, CEO, Saelig Company, Inc.
Tel: (585) 385-1750 Email: info@saelig.com
More from Agricultural & Farming Products