RV & Marine Repair and Customization Company Turns to Accudraft for Expansion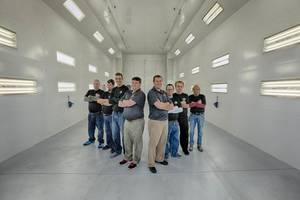 Spartan RV & Marine in Northeast Georgia Partners with Accudraft Paint Booths to Expand and Improve Their Business.
Aaron Price and the management team at Spartan RV & Marine specialize RV and marine repair, customization, and maintenance. They have proudly served Gainesville and Northeast Georgia through topquality service and craftsmanship. Over time, Spartan RV & Marine's reputation began to spread outside of the Northeast Georgia area, and the company's productivity grew as a result.
"One of our biggest challenges was keeping up with the heavy workload. People heard about us through wordof-mouth and, before you knew it, we became one of the busiest shops in the region," said Aaron Price. "We really didn't want to turn down work, but we also had to figure out a way to provide the excellent service we've been known for. That's where Accudraft came in."
Aaron and his team turned to Accudraft Paint Booths for assistance. As one of the industry's top paint booth manufacturers, Accudraft was able to help Spartan RV & Marine come up with a system that increased productivity, cut down on work time, while also providing the same excellent quality that made the company famous.
Since Spartan RV & Marine worked with larger automobiles and boats, they needed a paint booth that was able to accommodate everything from extra-large objects to car-sized boats. Accudraft decided to go with the TX Pro Truck Paint Booth because its customizability and versatility makes it the perfect fit for Spartan RV & Marine's unique demands.
After a quick installation, their 57' x 20' x 16' custom-built paint booth was ready for operation. The booth was given a drive-through mechanism to speed up productivity and prevent outside contamination as RVs and boats are moved throughout the workshop.
Aaron was clear that Spartan RV & Marine's top goals were productivity and quality, which Accudraft delivered by equipping the booth with downdraft technology. Now the Spartan team doesn't have to worry about contaminating the boats and RVs painted in their brand-new TX Pro Truck Paint Booth with dust, debris, and overspray, thanks to the revolutionary downdraft technology that pulls all pollutants down and away from the painted object. This also means that Aaron and his team will spend significantly less time touching up and redoing paint jobs that were affected by contaminants.
When asked about the new equipment, Aaron commented, "It's been a great couple of weeks since we put in the new paint booth. Things are going smoothly, the customers are happy, and we don't have to turn away any clients." Thanks to Accudraft's excellent customer service and diverse range of paint booth equipment, Aaron and his team of skilled professionals were able to expand their business without increasing their stress. Now Aaron and the rest of Spartan RV & Marine are proud members of the Accudraft family.
RV and boat owners in Northeastern Georgia who're in need of a repair or paint job are encouraged to stop by Spartan RV & Marine and see Aaron's new setup. Read Accudraft's case study on Spartan RV & Marine for more details. Aaron and his colleagues can be reached at:
Spartan RV & Marine
5245 McEver Road
Oakwood, GA 30566
(770) 535-7335
Contact Information
Guido Pippa
Accudraft Paint Booths
800-524-0340
Accudraft Paint Booths
961 Route 10 East, Suite 2K
Randolph, NJ 07869
Phone: 973-927-6232
Contact:
Lorena Markov
Marketing Manager
email: lmarkov@saimanorthamerica.com
More from Architectural & Civil Engineering Products