Run Video and Stereo Audio Signals over Cat5 or Better Wiring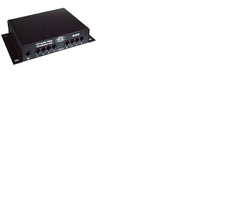 Distribute video and audio with one source!
The ETS CAT5 A-V Broadcast System is a UTP Audio/Video Distribution Hub. It has baseband video with two channels of line-level audio transmit through the distribution amplifier, creating (8) out-put sets (video + stereo audio) from a single source. The powered AV608 can be cascaded twice (three tiers), yielding a total distribution of 512 displays from just one input source.
The AV608 System supports NTSC, PAL, SECAM, CCTV color video and stereo audio signals over a total run length in excess of 330 meters (inclusive of all cable segments) on Category 5 or better cable.
Black and white signals can be run to a length up to 750 meters. The NTSC, PAL, SECAM, CCTV signals are converted to and from UTP using the AV900 or AV901 Baseband Audio-Video Baluns.
Great for in-store advertising, healthcare facilities, worship halls etc. The system works extremely well and is economical.
Visit! Energy Transformation Systems, Inc.
Website: http://www.etslan.com
Facebook: http://www.facebook.com/etslan.com
About ETS - Woman Owned Small Business Fremont, CA - Since 1967, beginning with custom-made transformers and continuing since 1981 as innovators of balun, hub, adapter and splitter technology, ETS provides a wide range of media conversion solutions for audio, data and video for analog or digital installations over structured wiring systems. ETS provides you solutions with 100% guaranteed USA-Made products.
ETS (T) 800-752-8208
510-656-2012
(F) 510-656-2026
Sales Contact:
Name:
Joe Rosenberger,
ETS Sales
Email address: jrosenberger@etslan.com
800-752-8208 or 510-656-2012
Energy Transformation Systems, Inc.
43353 Osgood Road Suite B
Fremont CA 94539
Phone: 510-656-2012
Contact:
Joseph Rosenberger
VP Marketing & Sales
email: jrosenberger@etslan.com
More from Electronic Components & Devices