Rugged L Band SSPA for Satcom Uplink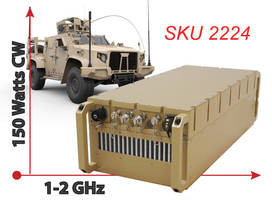 Empower RF Systems Releases Model 2224, a Tactical Up-Armored Solid State GaN On SiC Amplifier Producing 150 Watts
Empowers Tactical up-armored model 2224 is a compact SSPA operating from 1 to 2 GHz, delivering 150 Watts CW output. The amplifier includes a fast Tx/Rx switch and is designed for rugged outdoor and tactical deployment of data com links. The all-weather heavy duty NEMA 4 enclosure houses a complete amplifier system using our Next Generation architecture so all the local and remote control, monitoring, protections and user remote GUI are identical to our COTS rack systems.
The 2224 comes complete with internal directional coupler, internal forward and reverse power sampling and an easy to use remote web GUI. In depth health monitoring can be viewed remotely and pushed out via the Ethernet port. Output modes includes open loop mode, closed loop fixed gain mode, and closed loop constant power mode. These modes provide the flexibility needed when integrating into legacy systems.
Product Highlights
Rugged for Mobile Deployment
Remote Monitoring and Control via Ethernet 
Waveform Flexibility
Frequency Hopping and Multi-tone Capable
For technical application questions and to learn more on features that ease integration into your system hardware and software , please email your questions to sales@EmpowerRF.com or call (310) 412-8100 and press 2 for sales.
Learn More About This Product: https://www.empowerrf.com/products/display_amplifier.php?sku=2224
Complete Empower RF Amplifiers lineup: http://www.empowerrf.com/products/rf_power_amplifier.php
Empower RF Systems is the technology leader in high power amplifier solutions for reliable communications, defense, and industrial applications. Our products incorporate the latest semiconductor and power combining technologies and originate from an extensive library of "building block" designs. Solutions range from basic modules to multifunction PA assemblies with embedded real time microprocessor control.
Contact:
Corporate Offices:
sales@empowerrf.com
http://www.EmpowerRF.com
Empower RF Systems, Inc.
316 W. Florence Avenue
Inglewood, CA 90301
P: +1 (310) 412-8100
Media Contact:
Tatyana Safronova
Web & Print Media Manager
tatyana.safronova@empowerrf.com
Tel: 310-412-8100 x124
More from Packaging Products & Equipment