RTP Company to Present Conductive, Sturctural, Color, TPE, and Sheet Innovations at NPE 2006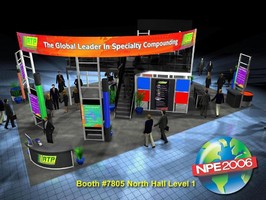 WINONA, MN, USA - May 30, 2006 - Find thermoplastic solutions with
RTP Company in booth 7805 at NPE 2006 - the International Plastics Showcase.
RTP Company, global leader in specialty compounds, will be introducing several
cutting-edge technologies and product expansions at this highly anticipated event
June 19-23 in Chicago, IL.

"RTP Company has invested a tremendous amount of technology this past
year in developing several innovative products for our customers," said Steve Maki,
Vice President of Technology at RTP Company. "A new line of PermaStat PLUS(TM)
products with improved electrical performance designed to meet the ATEX
(94/9/EC) directive for companies having equipment that will be operating in
potentially explosive environments has been developed, as well as long fiber
concentrates that will further improve the economic advantage of converting from
metals to engineered thermoplastic compounds."

Maki also revealed RTP Company has expanded carbon nanotube products
for static control and nanoclay compounds for improved barrier properties to meet
the new fuel emission standards for recreational vehicles and lawn & garden
equipment. Additional introductions at NPE include thermoplastic elastomers (TPEs)
that offer enhanced overmold bondability to a variety of rigid substrates, an
expanded range of UniColor(TM) Universal Masterbatches, and improved high purity
technology with very low levels of ionic impurities and outgassing.

Continuous innovation stems from RTP Company's nucleus of engineers,
many of whom will be available at the show. There will be eight informative innovation stations, including Sheet, Conductive, Color, TPEs, Value Products, Structural,
Application Development, and Multi-Technology Solutions. Each area will include data and
applications that highlight RTP Company's growing strengths. Four of these focused areas,
Sheet, TPE, Value Products and Color, have grown into divisions with appointed General
Managers since the previous NPE in 2003.

RTP Company, headquartered in Winona, Minnesota, is a global leader in specialty
compounding, and also offers masterbatches, sheet extrusion, and value products. The
Company has seven manufacturing plants on three continents, plus sales representatives
throughout North America, Europe, and Asia/Pacific. RTP Company's engineers develop
customized thermoplastic compounds in over 60 different engineering resin systems for
applications requiring color, conductivity, flame retardancy, high temperature, structural,
elastomeric and wear resistant properties.

For more information call (800) 433-4787 or (507) 454-6900, or visit our website at www.rtpcompany.com.

More from Non-Industrial Products