RTP Company's Reinforced Nylon Compounds Are a Perfect Fit for Universal Fan Blades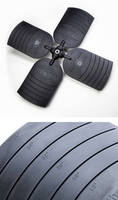 WINONA, MINNESOTA, USA -- The difficulty of finding a specific size replacement fan for a downed refrigeration system compressor led Lamont Van Slate, owner of Van's Refrigeration Service, to conceive the "Van Fan", a universal cooling fan with blades that can be resized on-site to fit individual system needs. Material engineers from custom thermoplastics compounder RTP Company recommended using a reinforced nylon compound for the blade to give it the stiffness and rigidity required.

According to Bob Mattox, owner of Mattox Machine and Molding, who developed the universal cooling fan in collaboration with Van's Refrigeration, the fan has the potential to revolutionize the industry. "Instead of storing large inventories of bulky fans with blades of various sizes and designs, repairmen and suppliers can now simply stock a series of interchangeable blades that snap on and off a common hub," he said. "This reduces the number of fan assemblies that need to be stocked."

The Van Fan's design includes a unique trimmable blade feature, which enables the blades to be individually resized to work on any fan from 6 to 26 inches
(15-65 cm) in diameter. In addition, the blade pitch can be set to eight different choices to allow the most efficient airflow. "With so many blade options available in one fan, technicians no longer have to spend time searching for the correct size fan blade," explained Mattox

After evaluating the fan's requirements, RTP Company engineers recommended an RTP 200 Series glass fiber reinforced nylon 6/6 compound for the blades. The material provided the necessary stiffness and rigidity to remain balanced during operation, as well as high impact resistance and UV stability. These characteristics enable the blades to withstand the harsh climate and temperature changes associated with a challenging outdoor operating environment.

"We searched far and wide for a material supplier who could engineer a solution that met our specifications," said Mattox, "RTP Company's custom compound matched our needs far better than any other material we tried. The result has been just remarkable."

For more information on RTP Company custom thermoplastic compounds, call (507) 454-6900 or toll-free at (800) 433-4787, e-mail rtp@rtpcompany.com or visit the RTP website at www.rtpcompany.com.

About Van's Refrigeration Service
Lamont Van Slate owns and operates Van's Refrigeration Service in northern California, and has been in the refrigeration/HVAC industry for more than 35 years.

About Mattox Machine and Molding
Based in Carson City, NV, Mattox Machine and Molding specializes in product design and injection molding for industrial markets. For more information, call (775) 885-9298.

About RTP Company
RTP Company, headquartered in Winona, Minn., is a global compounder of custom engineered thermoplastics. The company has ten manufacturing plants on three continents, plus sales representatives throughout the Americas, Europe, and Asia. RTP Company's engineers develop customized thermoplastic compounds in over 60 different engineering resin systems for applications requiring color, conductive, elastomeric, flame retardant, high temperature, structural, and wear resistant properties.

More from Non-Industrial Products