Ross Hydropneumatic Tanks and Pressure Vessels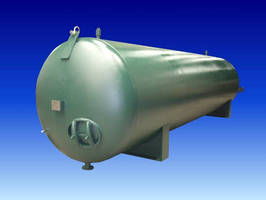 Savannah, GA – Ross Hydropneumatic Tanks and Pressure Vessels are built in any capacity up to 100,000 gallons, with working pressures from 50 to 200 psig, for indoor or outdoor installation. Available in carbon steel, 316 and 304 stainless steel, Monel, Hastelloy, titanium, Inconel, and aluminum, Ross Hydropneumatic Tanks and Pressure Vessels serve a wide range of uses and applications.



Pictured is a 5,000-gallon carbon steel tank designed, fabricated and stamped for 100 psig in accordance with ASME Section VIII, Div. 1 latest edition. The interior is lined with an American Water Works Association (AWWA)-approved lining for potable water, while the exterior is primed with epoxy.  Flanged and threaded nozzles are provided, as well as an elliptical manway.



Ross can meet most industry code requirements aside from ASME including USFDA, BISSC, ABS, API650, API620 and UL42. The company has extensive experience in building fabricated vessels for bulk solids storage, stirred reactors, sanitary mix tanks, compounding vessels, vacuum pots, gas surge tanks, cyclones, large diameter pipes, columns and tank farms.



To request a quotation or to find out more about our fabrication capabilities, contact Seavy O'Neal at 912-238-3300 / 1-800-524-7677 or

[email protected]

. Ross Engineering, Inc., a subsidiary of Charles Ross Son Company, is located at 32 Westgate Boulevard, Savannah, GA 31405.