ROLEC's Advanced HMI Enclosures for Machine Control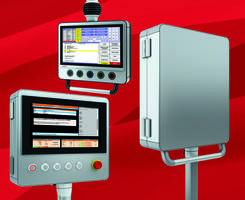 ROLEC's advanced HMI enclosures now include multiPANEL, profiPANEL and profiPANEL STANDARD – giving industrial electronics designers more choice.
Elegant multiPANEL is best suited to small-volume applications requiring advanced functionality and cutting-edge aesthetics. Versatile profiPANEL is for higher-volume applications, notably machine building.
Both models enable virtually borderless, flush-fit installation of a front plate or glass. They are manufactured from aluminum profiles, enabling the specification of custom sizes from 5.91" x 5.91" to 31.50" x 31.50".
Smart, modern multiPANEL (IP 65) is available in depths of 2.75" and 3.34", each in three variants offering either a bolted rear wall, a hinged and bolted rear door, or a hinged and lockable rear door. The front plate is connected permanently to the main body. Features include decorative stainless steel inlays. The main case and rear wall/doors are black (RAL 9005).
Anodized silver profiPANEL (IP 65) enclosures offer greater depth capacity (eight depths from 2.36" to 11.81"). There is one option for the rear: a hinged, lockable door. A 7.87" high keyboard desk unit (2.36" or 3.54" deep) is also available as standard. Both the main case and desk unit feature light gray plastic corner trims.
A more economical option is the 3.54" deep profiPANEL STANDARD (IP 65) – available in four standard plan sizes from 15.75" x 15.75" to 23.62" x 20.47" for 10" to 21" screens. Always-in-stock components enable shorter delivery times.
Accessories for multiPANEL include: keyboard and mouse trays, handles and wall connectors. For profiPANEL: as above but also a mounting bracket set and traffic red (RAL 3020), traffic blue (RAL 5017) or jet black (RAL 9005) corner covers. For profiPANEL STANDARD: wall connectors, handles, mounting bracket set, and the red, blue or black corner covers.
ROLEC recommends mounting the enclosures on its profiPLUS 50 or taraSMART suspension arms. It can supply the enclosures and arms full customized. Services include CNC machining, custom colours, engraving, laser processing, printing, and assembly/installation of accessories.
For more information, view the ROLEC website: https://www.rolec-usa.com/en/products/hmi-panel-enclosures/
Contact:
ROLEC ENCLOSURES INC
Phone: +1-888-658-5774
Email: sales@rolec-usa.com