Rohde & Schwarz Validates First 5G RF Conformance Tests with The R&S TS8980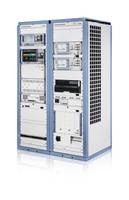 The Global Certification Forum GCF and PTCRB certification organization have accepted first test case validations in various FR1 and LTE band combinations using the new 5G RF conformance test system R&S "TS8980FTA-3A" from Rohde & Schwarz. The solution is the latest version of a successful family of RF conformance test systems and the only one in the market supporting mobile technologies all the way from 2G to 5G on one platform.
Conformance tests are vital for mobile communication technology since mobile network operators worldwide rely on the certification schemes of GCF and PTCRB for mobile devices in their networks. This validation process also ensures that the updated version of the R&S TS8980 has officially been accepted by GCF and PTCRB as suitable for the 5G RF requirements described in the 3GPP specifications.
Rohde & Schwarz has been a one-stop solutions supplier for conformance and operator acceptance testing from 2G through LTE. The new R&S CMX500 radio communication tester adds 5G NR signaling functionality to the R&S TS8980. The unique test solution now supports RF conformance test cases for all radio access technologies from GSM, WCDMA, LTE through 5G, and is an established tool for consistent RF tests from R&D to conformance testing. The integrated test system, operated by the sequencer software R&S CONTEST, offers high efficiency and precise, reproducible measurement results.
A unique feature is the smooth upgrade path to 5G. Users who already have a previous version of the wellestablished R&S TS8980 test system can upgrade to 5G RF testing by adding the new R&S CMX500 as an extension box.
For further information on Rohde & Schwarz solutions for wireless communications testing, go to: http://www.rohde-schwarz.com/wireless.
Press Contact Rohde & Schwarz
Rohde & Schwarz GmbH & Co. KG
Muehldorfstrasse 15 | 81671 Munich
Christian Mokry
Tel.: +49/89 4129-13052
press@rohde-schwarz.com
www.rohde-schwarz.com
Press Contacts:
Europe (Headquarters): Christian Mokry (Phone: +49 89 4129 13052; email: press@rohde-schwarz.com)
North America: Pam Sanders (Phone: +1 410 910 7908; email: pam.sanders@rsa.rohde-schwarz.com)
Asia Pacific: Wen Shi Tong (Phone: +65 6 307-0029; email: press.apac@rohde-schwarz.com)
About Rohde & Schwarz
Rohde & Schwarz is a leading supplier of solutions in the fields of test and measurement, broadcast and media, aerospace | defense | security and networks and cybersecurity. The technology group's innovative communications, information and security products help industry and government customers ensure a safer and connected world. On June 30, 2019, Rohde & Schwarz had about 12,100 employees. The independent group achieved a net revenue of EUR 2.14 billion in the 2018/2019 fiscal year (July to June). The company is headquartered in Munich, Germany, and has subsidiaries in more than 70 countries, with regional hubs in Asia and America.
Rohde & Schwarz USA, Inc.
6821 Benjamin Franklin Dr, Columbia, MD 21046, USA
Tomas Berghall
Phone: +1-503-523-9489
Tomas.Berghall@rsa.rohde-schwarz.com
https://www.rohde-schwarz.com/us/home_48230.htm
More from Fluid & Gas Flow Equipment