Rock Wool Calibration Gives Hydra Probe High Accuracy in Growing Medium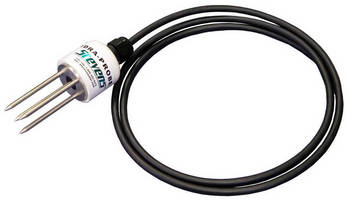 PORTLAND, Ore. - The Stevens Hydra Probe II soil sensor, one of the most widely used soil probe in research and commercial applications due to its high measurement accuracy and repeatability, now has a rock wool calibration available that provides higher accuracy measurements in this special growing substrate.

Rock wool, also known as stone wool, is a growing substrate used for growing indoor plants that is manufactured by several companies around the world. Rock wool is made by heating basalt rock at 1,500 °C, and spinning the molten rock into thin threads. Once cooled, these thin threads are compressed into blocks of various sizes for different growing applications.

The finished wool fiber blocks have excellent properties for growing plants, including the ability to readily hold and release water and nutrients to plants grown in this medium, without the rock wool material itself absorbing the liquid. This helps ensure the intended amount of water and fertilizer is available for the plant to uptake in its root system. Since rock wool is a manufactured product it is sterile when new, helping to prevent the spread of disease among plants.

The Stevens Hydra Probe II can be inserted into rock wool blocks in order to provide the user information about the water content of the rock wool, the temperature within the material, and the electrical conductivity which can be used to calculate salinity levels. These parameters are valuable for anyone who is growing plants under controlled indoor conditions, as real-time measurement data allows for precise control of watering and feeding schedules for optimum plant production.

The Stevens Hydra Probe II can be programmed at the factory to come pre-loaded with the rock wool calibration, or Stevens can provide instructions on how to program the rock wool calibration into the probe, for advanced users of the Hydra Probe II. Please call Stevens at (503) 445-8000 or toll-free (800) 452-5272, or email info@stevenswater.com for more information on the new rock wool calibration for the Stevens Hydra Probe II.

About Stevens Water Monitoring Systems, Inc.:
Stevens Water Monitoring Systems designs and manufactures instrumentation and systems for long-term monitoring, collection and data analysis of water conditions and related environmental conditions. The company's core technology enables measurement of water level, water quality, groundwater, soil conditions and weather conditions. Stevens' technology is expanding into advanced image processing and wireless communication for information analysis that enhances industrial and military operations. Stevens provides proven products for certified wireless transmission of environmental data, from short-range Bluetooth technology to long-range GEO and LEO satellite communications solutions.

More from Thermal & Heating Equipment