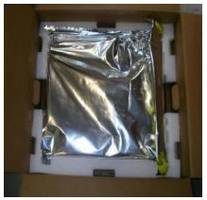 With more than 30 years of experience, Purestat Engineered Technologies Inc. is an integrated manufacturer of packaging materials for the electronics, semi-conductor, medical and food industries, specializing in the manufacturing and conversion (bag making) of various structures, including a co-developed award winning barrier material called RIBS MVTR™.
Working together with Engineered Materials, Inc., utilizing expertise gathered from years of manufacturing highly sophisticated barrier and conductive films and structures, we were able to develop a new, ground breaking film. The key property that was just discovered with the RIBS MVTR film is that it provides permanent ESD shielding.
We discovered this phenomenon when we received a bag back from a high-end aerospace company. They had used various handmade RIBS MVTR bags for testing on parts. They used the bags daily and were not gentle nor kind to the bags, as they put them on and pulled them off various parts and fixtures. After months of this abuse they noticed that the bags were severely wrinkled, folded and crumpled, yet continued to provide full ESD barrier and shielding properties for their testing. They were so amazed that they sent some samples to us for evaluation and confirmation. Typically, with foil and metalized bags once you get a fold, a crease or a wrinkle in a bag you damage both the barrier and shielding properties. Due to the unique structure of the RIBS MVTR bags with the metal out structure (to provide permanent surface resistivity and static decay and discharge) and the backbone of a conductive layer coupled together with the Intercept Technology™ provided what essentially is permanent shielding to go along with the permanent ESD properties of Surface Resistance and Static Decay, less than 5-volt charge retention, and long term corrosion protection.
Contact us to learn more about this exciting technology and the companion technology called RIBS Ultra which combines all of the properties of the RIBS MVTR film and bags with the lowest MVTR values that can be detected. Purestat continues to lead the way in unique barrier and ESD films.
Talk to our sales and engineering staff about any ESD needs or concerns that you may have. We have the expertise in house to be able to provide or develop the material or structure that you need for your application. That is our commitment and has been for over 30 year
PH: (207)-786-4790
Fax: (207)-783-3708
21 Old Farm Road, Lewiston, Maine 04240
Email: rkullson@purestat.com
Website: www.purestat.com
Purestat Engineered Technologies
21 Old Farm Rd.
Lewiston, ME 04240
Phone: 207-786-4790
Contact:
Keith Donaldson
VP of Technology and R&D
Email: info@staticintercept.com
More from Mechanical Power Transmission