Ringfeder's Ecoloc Provides Strength and Stability For Heavy-Duty Applications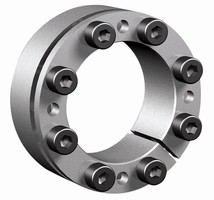 Westwood, New Jersey-RINGFEDER's ECOLOC® Series is a competitively priced, internal locking device that provides for higher torques, excellent self-centering ability and axial capacities in rotating machinery for a variety of heavy-duty applications. Applications include, but are not limited to clutches, conveyor belts, turbine rotors, flywheels, brake drums, gears and sprockets.

ECOLOC® RfN 7003-7006 devices are directly interchangeable with other commercially available locking devices. The ECOLOC® uses a slit ring design for greater shaft tolerance variation. All ECOLOC® devices provide a completely backlash-free connection and eliminate keys, keyways, splines, press fits and shrink fits.

ECOLOC® Locking Assemblies(TM) are easily installed, adjusted and removed, like all RINGFEDER keyless locking devices.

ECOLOC® RfN 7003-7006 are available from stock with or without flanges and in sizes from 3/4 " to 6-15/16" and 19mm to 180mm.

The heavy-duty locking assembly line consists of the ECOLOC® RfN
7005 and RfN 7009 Series. ECOLOC® RfN 7005 Series are available from 1" to 9" and 25mm to 600mm. The ECOLOC® RfN 7009 Series are available from 2-3/4" to 7-15/16" and 70mm to 600mm. Other ECOLOC® sizes are available upon request for both series. The ECOLOC® Series is also available worldwide at RINGFEDER's sister companies in Europe and India.

Ringfeder Corporation markets a wide range of quality power transmission components and has been the industry leader in keyless shaft/hub technology for more than 37 years. Some other power transmission solutions provided by RINGFEDER include shock absorbing devices, flexible elastomeric couplings, flexible disc couplings and torque limiters along with other specialty and custom made products. These components are designed for use in machinery built for the industrial, woodworking, metalworking, oil & gas drilling, packaging, conveyor, machine tool, logging, printing and construction markets.

Ringfeder Corporation is a member of AEM (Association of Equipment Manufacturers), PTRA (Power-Motion Technology Representatives Association) and the PTDA (Power Transmission Distributors Association).

For more information, please contact Ringfeder Corporation directly at 888-746-4333 or download their new ECOLOC® catalog online at www.ringfeder.com.


More from Electronic Components & Devices