Gas and Chemical Sensors / Detectors
RIDGID® Expands its Diagnostic Equipment Line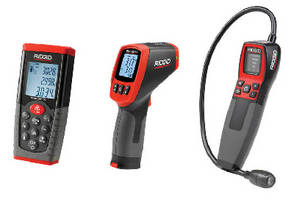 New hand-held diagnostic equipment includes the micro LM-100 laser distance meter, micro CD-100 combustible gas detector and the micro IR-100 infrared thermometer

ELYRIA, OHIO - RIDGID® expands its existing diagnostic line with the addition of three new hand-held diagnostic tools: the RIDGID micro LM-100 laser distance meter, the RIDGID micro CD-100 combustible gas detector and the RIDGID micro IR-100 non-contact infrared thermometer.

The RIDGID micro LM-100 laser distance meter provides simple, quick and accurate distance readings up to 164 feet. Direct and indirect measurements can be taken in seconds with the meter. The device's ultra-sharp class II laser allows for easy measurement of remote, hard-to-reach places. Distance readings appear quickly on the easy-to-read LCD display, and the meter displays the last three measurements and stores the last 20 measurements.

The rugged, portable, compact device weighs 0.5 pounds and measures accurately within 1/16 of an inch. It offers adjustable units enabling the user to read the measurements in feet, inches or meters and add or subtract measurements at the touch of a button. The bright backlit display allows the user to use the device in poorly lit areas. The instrument enables professional tradesmen to quickly determine distances for a range of applications, i.e. bidding for distance of piping run, measuring trouble spots on lines and quickly determining spacing, and area measurements for volume and code compliance.

The RIDGID micro CD-100 combustible gas detector provides simple and fast readings to quickly identify the presence of combustible gases. The detector is designed to detect methane, propane, butane, ethanol, ammonia, hydrogen and many other combustible gases.

The rugged ergonomic design makes the device capable of withstanding jobsite rigor. The adjustable sensitivity settings allow for quick, precise leak locating even in low-levels and the Tri-Mode Detection(TM) gives the operator the flexibility to be alerted with a visual, audible or vibration alert, which can be adjusted for each environment. The detector can be use for ensuring proper gas line installations, checking for maintenance and repair needs, or for quickly pinpointing combustible gas leaks.

The RIDGID micro IR-100 non-contact infrared thermometer provides simple, quick and accurate surface temperature readings at the push of a button. By squeezing the trigger and pointing the ultra-sharp dual class II lasers to spotlight the surface being measured, the micro IR-100 thermometer provides an immediate temperature measurement on a clear, easy-to-read backlit LCD display. The rugged ergonomic pistol-style grip allows the user to keep a solid grip on the device in the harshest industrial environments.

The 20-to-1 distance-to-spot ratio allows the user to take more accurate measurements from farther distances. Audible and visual high and low alarm settings alert the user quickly to temperatures outside of the set ranges. The micro IR-100 thermometer has a large temperature measuring range of -58 degrees to 1472 degrees Fahrenheit. The device is also equipped with a tripod mount for repeatable, precise temperature measurements. Applications include diagnosis of heating and ventilation problems, preventative monitoring of electrical motors and systems, trouble shooting steam traps, and diagnosing fuses and circuit breakers for overheating.

"At RIDGID, we are constantly looking to deliver new and innovative products to our customers, the professional tradesman. Our new rugged, hand-held diagnostic devices are the first in a series of products that RIDGID is launching to help the professional tradesman save time and money on any jobsite," said Chris Lane, product manager, RIDGID.

All three RIDGID hand-held diagnostic tools run on alkaline batteries and come with a RIDGID warranty.

About RIDGID®

RIDGID®, a leading manufacturer of innovative tools and equipment for the professional trades, markets its products in more than 140 countries. The company's broad offering of more than 300 types of tools, most recently RIDGIDConnect(TM), an online business tool, serves the rental, plumbing, HVAC/R, utility, industrial, electrical, petroleum, institutional, commercial and hardware markets. RIDGID is part of Emerson Professional Tools(TM), a business of Emerson, which brings technology and engineering together to design and produce some of the highest-quality tools and equipment in the world. From wet/dry vacs to the industry's best-selling pipe diagnostic system, key brands include RIDGID®, KNAACK®, PROTEAM® and WEATHER GUARD®.

About Emerson

Emerson (NYSE: EMR), based in St. Louis, Missouri (USA), is a global leader in bringing technology and engineering together to provide innovative solutions for customers in industrial, commercial, and consumer markets through its network power, process management, industrial automation, climate technologies, and tools and storage businesses. Sales in fiscal 2010 were $21 billion. For more information, visit www.Emerson.com.

More from Mechanical Power Transmission