Richardson RFPD Introduces Lineup of Power IGBTs in New VINco E3 Package from Vincotech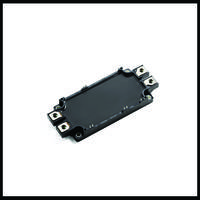 Low-profile package for motion control, solar and UPS applications
March 28, 2017 – Geneva, Ill.: Richardson RFPD, Inc. announced today the availability from stock and full design support capabilities for a family of power IGBTs in the new VINco E3 package from Vincotech.
The VINco E3 package features SLC (SoLid Cover) technology in an industry-standard lowprofile package. It enables engineers to design mid-power inverters with higher output current, higher power density and improved reliability for motion control, industrial drives, solar power, UPS and other mid-power applications.
The insulated metal baseplate combines an electrically-insulating resin layer with direct-bonded top- and bottom-side copper layers. It replaces the substrate solder layer and separate baseplate to achieve high thermal cycling capability, reduced thermal resistance, and high power density and low stray inductance. Direct potting resin distributes the mechanical stress more uniformly than silicone gel for improved power cycling capability.
The first VINco E3 releases are equipped with the latest low-loss Mitsubishi Gen 7 chips and include:
Part Number                                             Type                           Topology                          Voltage (V)              Current (A)
A0-VP122PA300M7-L757F70T             Press-fit                       Half-Bridge                           1200                         300
A0-VP122PA450M7-L758F70T             Press-fit                       Half-Bridge                           1200                         450
A0-VP122PA600M7-L759F70T             Press-fit                       Half-Bridge                           1200                         600
A0-VP122PA690M7-L750F70T             Press-fit                       Half-Bridge                           1200                         690
A0-VS122PA300M7-L757F70               Solder                          Half-Bridge                           1200                         300
A0-VS122PA450M7-L758F70               Solder                          Half-Bridge                           1200                         450
A0-VS122PA600M7-L759F70               Solder                          Half-Bridge                           1200                         600
A0-VS122PA690M7-L750F70               Solder                          Half-Bridge                           1200                          690
To find more information, or to purchase these products today online, please visit the Vincotech New Products webpage. The devices are also available by calling 1-800-737-6937 (within North America); or please find your local sales engineer (worldwide) at Local Sales Support. To learn about additional products from Vincotech, please visit the Vincotech storefront webpage.
About Richardson RFPD
Richardson RFPD, an Arrow Electronics company, is a global leader in the RF and wireless communications, power conversion and renewable energy markets. It brings relationships with many of the industry's top radio frequency and power component suppliers. Whether it's designing components or engineering complete solutions, Richardson RFPD's worldwide design centers and technical sales team provide comprehensive support for customers' go-to-market strategy, from prototype to production.
More information is available online at www.richardsonrfpd.com.
1950 S. Batavia Avenue, Suite 100
Geneva, IL 60134
P: 630 262 6800
F: 630 262 6850
FOR DETAILS CONTACT
Dave Rossdeutcher
Director, Global Marketing – Energy, Power & Interconnect
drossdeutcher@richardsonrfpd.com
P: 630 262 6800
Related