Richard L Sensenig makes Stainless Steel Tanks for Custom Applications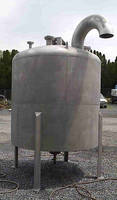 Richard L Sensenig, located in Ephrata, PA,  is a custom metal fabricator servicing industry since 1958.  We provide a wide range of industrial and commercial services including Custom Metal Fabrication, Sheet Metal Fabrication and Roofing. We work with Steel, Stainless Steel and Aluminum,  iron, lead, light metals, copper, and architectural metal.  Our custom metal fabrication services do not stop once your piece is completed; we handle finishing, assembly, painting, structural steel erection, and more. 



A recent project was for a Specialty Chemical Manufacturer who needed an above-ground 1800 gallon tank for mixing chemicals.  The tank was made with 304 stainless Steel, with ¼" thick plate, an ASME flanged and dished head at the top and a cone bottom.  We also welded access nozzles through the top for connection with the agitator, fill lines and instrumention and a manway on the side for easy access and cleaning.



Our on-time delivery of this project project was designed by us and installed by the customer, but we do offer installation for customers as a value-added service. 



About Richard L Sensenig:

Richard L Sensenig has built a strong reputation on a commitment to modern technology and good, old-fashioned craftsmanship. Above all, we go out of our way to serve our customers in an honest, dependable and professional manner.



We specialize in the food service industry, and we also serve customers from the industrial, agricultural, food, wastewater, environmental, material handling and other sectors. 



When you choose Richard L. Sensenig Company, you can trust the job is done right, on schedule, and at a reasonable price.  For more information, please call (717) 733-0364 or visit our website www.rsensenig.com.





More from Fasteners & Hardware