RF Amplifier System SKU 2126 - Tested Tough to Mil Standard 810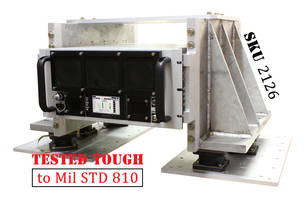 Empower's Model SKU 2126 was mounted in the test fixture undergoing 40g shock testing while operating uninterrupted at full rated output power. The Amplifier system was tested for MIL-STD-810E Method 514.4 vibration 40g Peak while operational for 270 minutes in each axis. The unit also passed Shock – MIL-STD 810F Method 516.5 3 Axes, Quantity 18 pulses per direction 11 mSec Sawtooth Pulse / 40g Peak.
Keep in mind this is not a custom design. This is our COTS model with a dust filter added.
Watch Video here: http://www.empowerrf.com/press/releases.php?id=350&title=Mil-Standard-810
Empower's tested and field proven rugged design is common across all our Next Generation Family of amplifiers and is the result of our patented architecture and design goal to minimize RF power losses along the internal signal path, simplify manufacturing and provide for ease of servicing. The consequence of this elegant electro-mechanical compact structural design is a COTS amplifier that is inherently durable. Empowers family of solid state power amplifiers is thermally and structurally designed to meet today's stringent and harsh operating conditions both in the Military and commercial market.
A Peek Inside
Our COTS amplifier architecture includes advances in RF and digital PCB signal routing that allows us to eliminate virtually every internal connector, RF cable and electrical harness. This makes the amplifier fundamentally rugged, reliable, improves RF efficiency and is available on all of Empower Next Generation systems.
Additional Value
The Confidence to Ship and Operate Your Amplifier Reliably to Increase Equipment Utilization and Lower Your Cost of Capital.
Even if your application doesn't require Military Standard shake and bake certification there are benefits to all. Every amplifier gets shipped many times over its lifetime and let's face it, accidents do happen. Your equipment will be subjected to handling, and transportation hazards including:
Shipping and Transportation Shock, Vibration, and Mishandling
In- House Rough Handling - Storage Extremes
Installation/ Re-installation
Operating Environment and In-Situ Testing
And if that's not good enough, for the most demanding applications, the SKU 2126 amplifier system passed all of the following:
                          Description                                    MIL-STD procedure
Vibration                                                          MIL-STD-810E Method 514.4
EMI/EMC                                                         MIL-STD-461E, RE-102 / RS-103
Shock, Operational                                           MIL-STD 810F Method 516.5, Procedure I
Shock, Bench Handling                                     MIL-STD-810F Method 516.5, Procedure VI
Shock, Drop                                                     MIL-STD-810F Method 516.5, Procedure IV
Loose cargo Transportation                                MIL-STD-810F Method 514.5
Dust / Sand                                                      MIL-STD-810F Method 510.4,
Procedure I Operating/Storage Temperature         MIL-STD 810F Method 501.4
Humidity                                                           MIL-STD 810F Method 507.4
A Complete Robust COTS Design
Adding your own external metering hardware will worsen the MTBF of your overall hardware platform so with the system designer in mind Empower's engineers reached outside of the box and incorporated the external DDC and Power Meter/Sensors into the amplifier. Beside improved reliability, your overall costs are lowered without the need to purchase external metering equipment. This approach comes with the added benefit of eliminating the RF power losses associated with the external connector, cable, and coupler.
Let's continue the conversation of how our Next Generation products can help you meet your system requirements: sales@empowerrf.com
Learn More About These Products: http://www.empowerrf.com/products/display_amplifier.php?sku=2126
Download datasheets: http://www.empowerrf.com/datasheet/Empower_RF_Amplifier_2126.pdf
Complete Empower RF Amplifiers lineup: http://www.empowerrf.com/products/rf_power_amplifier.php
Empower RF Systems is a leader in power amplifier solutions for defense, commercial, and industrial applications. Our products incorporate the latest semiconductor and power combining technologies and originate from an extensive library of "building block" designs. Solutions range from basic PA modules to multifunction PA assemblies with embedded, microprocessor controllers.
Visit Empower RF website: http://www.EmpowerRF.com
More from Thermal & Heating Equipment