Reverse Engineering Drives Expansion of 3D Engineering Solutions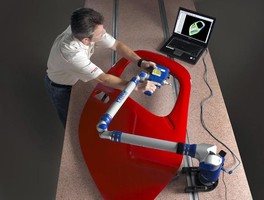 Addition of three field engineers and significant upgrades in software at 3D Engineering Solutions are the result of growing demand for the company's reverse engineering services, portable on-site laser-based scanning and 3D modeling.

New field engineers and a Unigraphics software upgrade from NX5 to a Mach 3 bundle provides more capability at 3D Engineering's 15,000 square-foot metrology lab operation in Cincinnati, as well as greater service coverage to customers on-site, anywhere in the world. The company utilizes portable, laser-based, 7-axis coordinate measuring machines (CCM) and advanced software technologies to provide customers with reverse engineering, product qualification and inspection services.

3D Engineering Solutions is strategic partner of Faro Technologies, the best-in-class provider of portable CCM laser-based technologies, and InnovMetric, a leading-edge "point cloud" software provider. Using these advanced technologies, 3D engineers are able to scan up to 20,000 data points per second, allowing them to accomplish in hours what would take days and even weeks by less advanced measuring or modeling methods.

Customers utilize 3D Engineering Services as an extension of their in-house engineering and quality departments, thus gaining the capabilities of advanced metrology tools without the significant capitalization expenditure required to purchase such tools.

More from Transportation Industry Products