Responsive Respiratory Includes Value‐Added Pocket Duration Card with Each Custom Regulator Purchase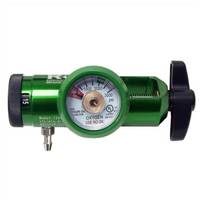 St. Louis, Missouri – November 16, 2018 – Responsive Respiratory upgrades custom logo regulator offering to include a free pocket duration guide with purchase.
All standard and high flow regulators purchased with a custom engraved logo will now include the new cylinder duration card at no charge in every box. The card is perfectly sized to fit in a wallet or to attach directly to the cylinder wrench for easy reference by the patient or caregiver. "The pocket duration card was developed as a result of RRI's Customer Feedback Initiative and addresses one of the primary concerns for oxygen users: How long will my cylinder last?," notes Tom Bannon, Responsive Respiratory President.
The card is beneficial to both providers and patients, and includes the most common oxygen flow ranges and cylinder sizes in an easy to read estimated duration chart. "While RRI also offers our O2 To Go Duration App and the online cylinder duration calculator, we recognize that many patients do not have access to this technology," explains Bannon. "The new Pocket Duration Card is another tool Providers have at their disposal to ensure the needs of the patients are met."
The pocket duration card is the latest value‐added addition to Responsive Respiratory's offering of EMS, Hospital, and Home Care regulators and their full line of ambulatory oxygen equipment and accessories.
About Responsive Respiratory ‐ ‐ Responsive Respiratory was founded in 2002 and is dedicated to providing high quality respiratory products for the home health care and hospital markets. RRI's full line of professional respiratory products includes: oxygen conservers, regulators, cylinder carts & racks and carry cases. For a complete listing of Responsive Respiratory's products, visit www.respondo2.com.
Contact:
Sara Lippold, Marketing Manager
Responsive Respiratory
261 Wolfner Dr, St. Louis, MO 63026
866-333-4030
srl@respondo2.com
www.respondo2.com
More from Machinery & Machining Tools