Research Shows: A Clean Duct System Is an Energy Efficient System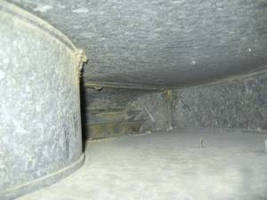 In a previous post, we learned how a clean heating, ventilation, and cooling (HVAC) duct system can improve indoor air quality. In this post we'll expose the impact a dirty HVAC system can have on energy costs.

When it comes to energy-efficiency in heating and cooling systems, air flow is everything - the better the air flow, the better the system performs. When systems become contaminated with dirty filters, clogged coils, fouled blowers and other components, air flow is reduced, system performance degrades, and energy costs go up. By how much? In 2008, the National Air Duct Cleaners Association (NADCA), working with researchers from the University of Colorado at Boulder, aimed to find out.

Working with data available from previous research studies, scientists developed a computer model to quantify the energy savings that could be attained through cleaning HVAC duct systems. They experimented on a house contained within the University's Larson Lab, then conducted two field trials to assess the accuracy of the model. Based on the initial research, replacing the filter and cleaning an even slightly dirty system according to NADCA guidelines provides, on average, an 11 percent energy savings. Significant? Yes! And common sense dictates that the dirtier the system, the greater the cost savings will be after it is cleaned. (Further studies are being conducted to verify that.)

As a NADCA member, IMC cleans all HVAC systems according to the ACR Standard, which includes more than cleaning just the ductwork. We leave the coils, blower, and other air-side system components spotless and change all filters. If you see an efficient HVAC system and lower energy bills in your future, contact us today. For more information call 1-800-220-6547 or visit our website www.imc.cc/air-hvac.

More from Construction Equipment and Supplies