Rehm Helps Tectron Efficiently Reduce Noise Levels!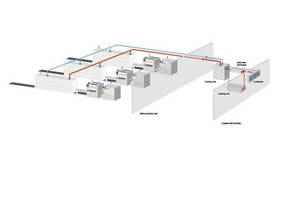 Tectron, the high quality manufacturer of testing equipment, has been a customer of Rehm's for over 10 years and naturally chose us when deciding to jointly develop a system to reduce waste heat and the amount of noise generated by their SMD production unit.

We are completely committed to helping our customers increase their efficiency, so we were only to happy to take on the task.

What was Rehm's answer to this challenge?

A central cooling system with direct expansion was chosen as the most efficient option to install for Tectron, in order to efficiently reduce the noise pollution encountered.

Advantages of the system included:

o Noise pollution in Tectron's production hall was completely removed

o Low investment cost

o 25-30% reduction in power consumption

o Reduced levels of waste heat

o Reserve capacity was incorporated to enable future expansion

Tectron have been extremely pleased with the central cooling system, as it has provided them with more benefits than just their initial objective of reducing the waste heat and eliminating the noise of the production unit itself. Volker Schneider, General Manager of Tectron commented, "The noise pollution caused by the cooling systems in the production hall is now completely removed." However it is not only on the production lines that savings can be measured. The reduced levels of heat have allowed other savings to be made too, like smaller air condition units and pre-heating of drinking water.

Rehm is committed to providing solutions for our customer's problems, so if you too would like to see how Rehm could help with your specific manufacturing challenge, please contact a member of the Rehm team today for more information.


More from Mechanical Power Transmission