Reducing Theft with Cargo Seals at Stoffel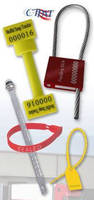 Shipping cargo securely and getting products on shelves and racks of a store may be the biggest challenge retailers face. Whether it's the truck driver, dock worker, or stocking personnel, easy access to goods increases the risk of theft. Tamper-evident cargo seals provide an immediate indication if a shipment or container, or other sealed cases has been opened, pilfered or otherwise tampered with.

The use of a tamper-evident cargo seal on a truck is the most cost-effective way to reduce cargo theft and deter tampering with a shipment. Stoffel Seals has been the leading provider of the most highly effective and secure tamper-evident cargo seals for nearly seventy years. The patented technology provides customers with the assurance that a cargo seal from Stoffel will be a reliable method of creating an audit trail for the shipments of goods traveling from destination to destination.

Stoffel offers an extensive cargo seal product line which includes high security seals, metal & plastic trailer seals, plastic strap pull-tight adjustable seals, tote & container seals.

Cargo seals that are designed specifically to secure high value shipments include the recently introduced SnapTracker(TM) & Locktainer(TM) bolt seals. Both of these cargo seals are C-TPAT ISO 17712 compliant high security seals that are used for cross boarder cargo shipments, trailer & container door latches. Additionally, the FlexiGrip(TM) 350 & 500M Cable Seals are CTPAT/PIP compliant and can also be used to secure high value cargo deliveries.

Cargo seals such as tamper-evident trailer seals include plastic truck seals, flat & ball metal truck seals. These cargo seals are light-weight, cannot be removed without evidence of tampering & include the company name & unique number identifiers which will track the cargo as it is shipped from one destination to another.

The Gemini(TM) tote seal & the Tevi-Tag(TM) tamper-evident security seal are cargo seals ideal for plastic totes. The Gemini Tote Seal secures plastic totes on both sides of the tote with "twin" numbered seals. The Tevi-Tag is the 1st security seal to incorporate a durable vinyl tag & tamper-evident cargo seal in one product. This unique capability allows for the addition of various options such as bar coding and numbering, writable surface areas & preprinted information that previously could not be applied to a cargo seal.

Cargo security is of the utmost importance to Stoffel Seals which is why they have been focused on product innovation & meeting industry needs since 1941. Stoffel is recognized for not trying to make one product fit all situations and pride themselves in developing custom security solutions.

For more information on cargo seals, please visit, Stoffel Seals on www.stoffel.com or contact the Inside Sales Team at 800 344-4772.

More from Agricultural & Farming Products