Reduce Weld Defects, Improve Productivity and Save Money With New Miller® Solutions Featured at FABTECH 2018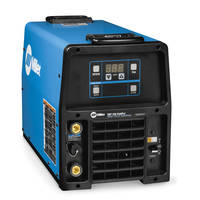 Visit Miller in booths C12628 and C12828 to see the latest welding innovations and live demos
APPLETON, Wis. (Aug. 9, 2018) — Miller Electric Mfg. LLC will showcase its latest welding and safety equipment for the manufacturing, fabrication and construction industries at FABTECH 2018 in Atlanta, Nov. 6-8, in booths C12628 and C12828. Representatives will be available to answer product and welding technology questions, and booth visitors can experience the new equipment firsthand through live welding demonstrations.
Welding demonstrations will highlight the benefits of comprehensive welding solutions — featuring Miller® welding products, Hobart® filler metals, Bernard® Semi-Automatic MIG Guns and Tregaskiss® Robotic MIG Guns. Miller solutions at the show will include the following new products, welding automation and more:
Trailblazer® 325 diesel welder/generator: Maximize runtimes and fuel efficiency and reduce expenses with the industry-leading combination of Auto-Speed™ technology and Excel™ power. Now with five Auto-Speed rpm levels, operators can weld up to 135 amps while the engine remains at idle (1,800 rpm).
XMT® 350 FieldPro™ with Polarity Reversing: Industry-leading technology means there's no need to manually swap polarity, cables or hoses between welding processes such as stick and TIG. Quick-Select™ technology automatically selects the welding process, correct polarity, cable outputs and welding parameters — for reduced training time and increased quality — while optimized stick and TIG performance is specifically designed for open root pipe welding.
Insight Centerpoint™ 10: An updated version of Centerpoint software, this solution is designed for greater ease of use, faster startup time and a drastically shortened learning curve — so manufacturing operations can detect missed welds, verify proper weld sequences and ensure consistent weld quality.
ArcAgent™ for Insight Core™: Get the benefits of weld data monitoring across the entire welding fleet — regardless of manufacturer — for a full understanding of productivity, arc-on time and weld parameters in the welding operation.
For more information, visit MillerWelds.com.
About Miller
Miller Electric Mfg. LLC, headquartered in Appleton, Wisconsin, is a leading worldwide manufacturer of Miller brand arc welding products and is a wholly owned subsidiary of Illinois Tool Works Inc. (NYSE: ITW). For more information, visit the Miller website at MillerWelds.com, call 1-800-4-A-Miller (800-426-4553), email info@millerwelds.com, fax 877-327-8132, or write to Miller Electric Mfg. LLC, P.O. Box 100, Lithonia, GA 30058.
Contact:
Diane Heldt
Two Rivers Marketing
515.557.2228
More from Machinery & Machining Tools