Reduce Heat by Adding the alphaCool(TM) from WITTENSTEIN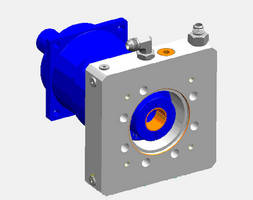 Fluid-cooled Adapter Plate Provides Significant Heat Reduction in Applications

Servo motor / gearbox combinations are often limited by temperature. The higher the torque load and/or rpm, the higher the temperature. To improve performance, temperature must be lowered. This can be accomplished through better extraction of heat from the motor / gearbox combination. Significant heat removal is now achievable with the alphaCool(TM) Adapter, designed to provide the highest reduction in heat generated due to the motor / gearbox connection.

The alphaCool(TM) is used to connect the servomotor to the gearbox. This specially designed adapter plate is optimized to allow maximum flow of fluid to better remove the heat. In application, this revolutionary new water-cooled adapter design was able to reduce output bearing temperature up to 50% as compared to the natural convective cooling. As well, this design provides a lowering of the motor winding temperatures.

The result of the alphaCool(TM) Adapter is increased performance in the motor / gearhead combination, with higher torque load and/or rpm. The benefit to the user is the potential to utilize a smaller motor that can achieve higher torques and speeds with the added cooling.

More information can be found at www.wittenstein-us.com/System-Accessories/alphaCool-Adapter-Plate.html.

WITTENSTEIN is committed to being a world-class partner for customers of its intelligent mechatronic drive technology, servo systems and mechanical components. By using the power of science, innovation, and forward thinking technology, our goal is to be the leader in motion with every day offering new opportunities for WITTENSTEIN to work with customers to create solutions for the future of motion.


More from Electrical Equipment & Systems